DrySyn MULTI-E starter kit
The DrySyn MULTI-E Base converts any standard hotplate stirrer into a reaction block for 3 flasks of 10 mL – 100 mL, or up to 27 vials. Its modular system offers flexibility and is very compact with a small footprint.
The clever design allows fitment with any hotplate stirrer and comes complete with a heat resistant safety lifting handle.
Various kits are also available depending on your needs however this DrySyn MULTI-E starter kit includes the base and one each of 25/50/100 mL inserts.
You can of course purchase additional inserts of your chosen size.
Setting up 3 reactions is easy with the DrySyn MULTI-E clamp
Up to 3 reactions in flasks from 10 mL to 100 mL or up to 27 reactions in tubes or vials possible with this base
Kit supplied comprises 1 x MULTI-E Base with heat resistant handle, and one insert each of 25/50/100 mL size
Powerful stirring in all configurations
Temperature probe fits directly in insert for greater accuracy
Fits any hotplate stirrer
Safe temperature ramping to 300 o

C

Made in the UK.
UK / Europe / Global Delivery
Developed in collaboration with our clients / Bespoke design service
Committed to developing sustainable & practical improvements for scientists worldwide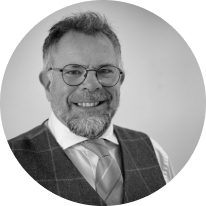 Asynt's unique range of innovative and sustainable products/services are developed by chemists for chemists - to make your lab life easier.
Martyn Fordham, MD
Customers also purchased