DrySyn MULTI Range 3-position Clamp
The DrySyn MULTI 3 position clamp allows safe clamping of three round bottom flasks in parallel.
With three sizes available to suit the MULTI-E, MULTI-M and MULTI-S parallel DrySyn systems, the MULTI clamps are also perfect to use with the Asynt CondenSyn range of waterless air condensers.
Aluminium and Stainless Steel construction
Clamp 3 flasks OR 3 condensers when using the DrySyn MULTI-E/MULTI-M/MULTI-S base
Compatible with your existing boss heads
These clamps can also be used to safely secure 3-flasks in an ice bath
Choose the clamp to suit your flask size:

ADS3-C DrySyn MULTI-E Clamp: suits up to 3 flasks each 100 mL
ADS5-C DrySyn MULTI-M Clamp: suits up to 3 flasks each 250 mL
ADS6-C DrySyn MULTI-S Clamp: suits up to 3 flasks each 500 mL
UK / Europe / Global Delivery
Developed in collaboration with our clients / Bespoke design service
Committed to developing sustainable & practical improvements for scientists worldwide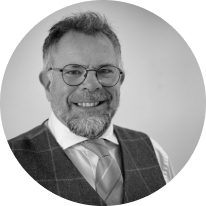 Asynt's unique range of innovative and sustainable products/services are developed by chemists for chemists - to make your lab life easier.
Martyn Fordham, MD
Customers also purchased