The Asynt chemists are constantly developing ideas and tools to bring to the laboratory.  In addition to the widely used DrySyn heating and cooling block systems available, are you aware that we also have a range of DrySyn reactors?  Find out more below!
---
The DrySyn OCTO 8 Position Reaction Station allows powerful magnetic stirring and heating, inert atmosphere and reflux, all with a tiny footprint.  This innovative design has been found incredibly useful for working volumes of up to 6 mL and has been specified to allow the use of low-cost reaction tubes to save as much as possible on consumables for your lab.  Whilst brilliant for 8 parallel reactions, you can use up to 3 DrySyn OCTO Reaction Stations on just one standard magnetic hotplate stirrer (this set up is known as the OCTO PLUS) therefore allowing up to 24 parallel reactions.  Starter kits are also available.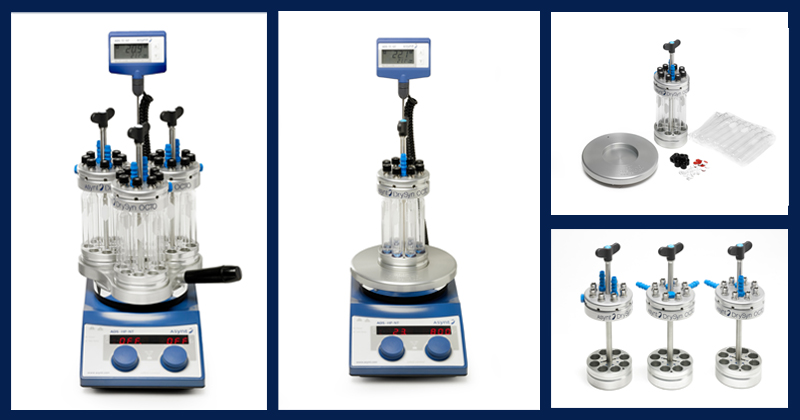 Feedback:
The DrySyn OCTO has benefited early stage discovery chemistry at Cancer Research UK (Cambridge, UK). Designed to work with any hotplate stirrer, the reactor has enabled them to increase the productivity of their small-scale synthetic reactions, with Dr Peter Blencowe, Senior Scientist at CRUK, commenting
"We have used the DrySyn OCTO to perform a variety of heterogeneous catalysis reactions under nitrogen to eliminate formation of side products. Using DrySyn OCTO – parallel reactions are very easy to set up saving time on the degassing and space on the heating arrangement required. We all like the unit and it has particularly helped us improve workflow when tasked with doing arrays of heated reactions in early discovery chemistry".
The OCTO MINI allows safe and easy sampling with disposable needles and is available as a stand-alone kit or should you wish to, you could purchase a conversion kit allowing you to change back and forth between your standard OCTO and the MINI.
---
Asynt, in conjunction with BioChromato (Japan), have developed the DrySyn Spiral Evaporator, which enables scientists to evaporate solvents directly from tubes and vials positioned within a DrySyn reaction vial block – up to 4 samples at a time!
Utilising the proven safety benefits of DrySyn to combine with the patented spiral plug evaporation technology from BioChromato (originally used in the Smart Evaporator) the DrySyn Spiral Evaporator offers fast and effective parallel evaporation in tubes without solvent bumping. Use the system to rapidly concentrate even high boiling solvents such as DMSO, DMF and water without heating to high temperatures.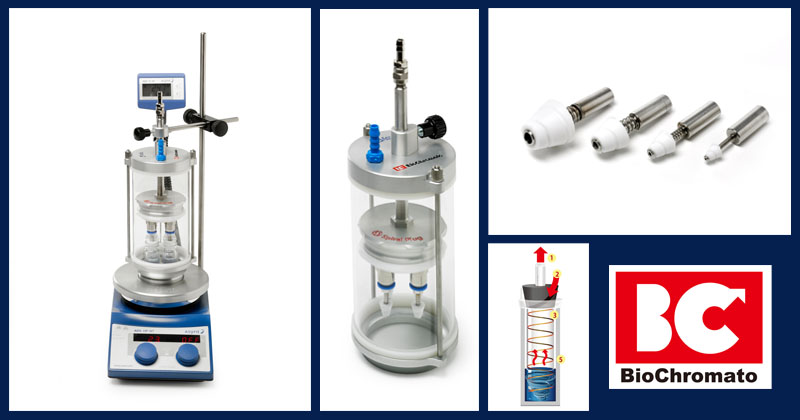 Feedback:
The DrySyn Spiral Evaporator is enabling the Cresswell Group within the Department of Chemistry at the University of Bath (UK) to improve and streamline many aspects of their synthetic organic methods.  The research activities of the Cresswell Group are focused on new reaction development and the exploitation of novel or underutilised catalysts and reactive intermediates, to solve longstanding problems in organic synthesis. Current major projects are centred on visible light photoredox catalysis and include developing new methods for nucleophilic borylation as well as investigating visible light-mediated alkyl-alkyl cross-coupling and visible light-mediated C(sp3)-H functionalisation reactions.
Dr Alex Cresswell, Head of the Group commented:  "My lab is focused on the development and mechanistic understanding of new catalytic methods for organic synthesis. Our recent purchase of the DrySyn Spiral Evaporator from Asynt has been greatly advantageous, as it allows us to vacuum down up to four different samples at a time, streamlining work-up procedures for multiple reactions. It saves so much time, and there is no need to worry about bumping. It removes all of the hassle associated with concentrating samples directly into vials, which you cannot easily attach to equipment such as rotary evaporators. Taking off high-boiling solvents like DMF and DMSO is another big plus. The DrySyn Spiral Evaporator has had heavy use since its arrival in our lab – it is not uncommon for my group to be queuing up to use it!".
---
If you'd like to speak to one of our chemists about any of the apparatus mentioned here then please do contact us via email at [email protected] or telephone +44 (0)1638 781709. We look forward to hearing from you!