Asynt reports on how a DrySyn OCTO 8-position parallel synthesiser has benefited early stage discovery chemistry at Cancer Research UK (Cambridge, UK). Designed to work with any hotplate stirrer, the DrySyn Octo has enabled the CRUK Therapeutic Discovery Laboratories to increase the productivity of their small-scale synthetic reactions.
Dr Peter Blencowe, a senior scientist at the CRUK Therapeutic Discovery Laboratories commented "We have used the DrySyn OCTO to perform a variety of heterogeneous catalysis reactions under nitrogen to eliminate formation of side products. Using DrySyn OCTO – parallel reactions are very easy to set up saving time on the degassing and space on the heating arrangement required. We all like the unit and it has particularly helped us improve workflow when tasked with doing arrays of heated reactions in early discovery chemistry".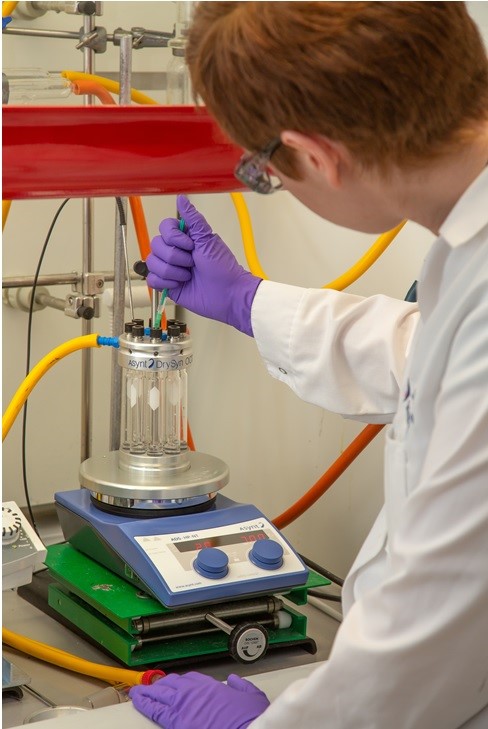 The Asynt DrySyn OCTO 8-position parallel synthesiser is an easy-to-use entry-level product for chemists wishing to conduct synthetic reactions under an inert atmosphere with temperature control, reflux and powerful magnetic stirring. The compact DrySyn OCTO parallel synthesiser accommodates low cost consumable reaction tubes each with a working volume of 5-6 ml. The large surface area of these glass reaction tubes enables the DrySyn OCTO to be used for air cooled gentle reflux reactions. Up to 3 DrySyn OCTO units can be employed together on any standard magnetic hotplate stirrer, using a DrySyn MULTI baseplate. In this OCTO+ configuration users can perform 24 parallel reactions in a very small space. Gas tight closure on each tube connection enables reactions under inert atmospheres to be carried out using the DrySyn OCTO. Additions or reaction sampling can be made whilst under inert conditions using a syringe. The unit uses low cost easily replaceable consumable septum's.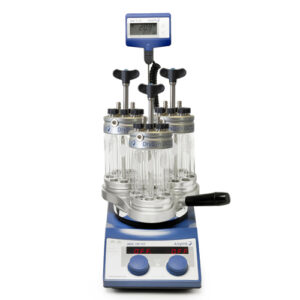 Cancer Research UK, formerly known as Cancer Research Technology (CRT), develop and commercialise exciting new discoveries in cancer research. The Therapeutic Discovery Laboratories at CRUK principal focus is on establishing and prosecuting biologically-themed multi-project alliances with industry to deliver breakthrough medicines for cancer patients. For further information on the work of Cancer Research UK Therapeutic Discovery laboratories please visit http://discoverylabs.cancerresearchuk.org/

You can download a PDF of this full press release HERE.
You can download in French here: Un Synthétiseur parallèle favorise le flux de travail chimique pour les découvertes précoces
You can download in Spanish here: Beneficios para la química para el descubrimiento temprano con el Sintetizador Paralelo
You can download in German here: Parallel-Synthesizer für die frühen Phasen chemischer Forschungsarbeit