We're going to give you some basic information on what a Schlenk Line actually is, how it is used, and share some fantastic open-access resources on how to get the best out of this essential piece of laboratory equipment.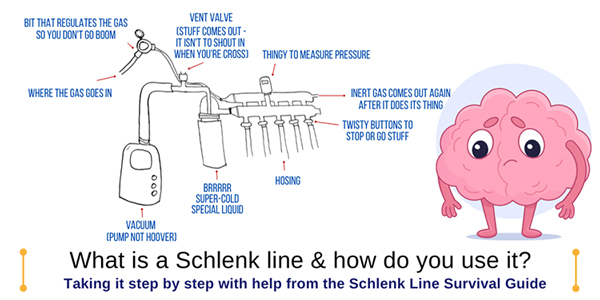 Inspired by Dr Andryj Borys' graphic (below!)
So what is a Schlenk Line?
A Schlenk Line is a piece of lab equipment usually manufactured from borosilicate glass with additional taps and fittings, that is used when manipulating compounds that are sensitive to air and moisture.  Each line being worked with has two manifolds; one that's connected to a vacuum pump (such as the Vacuubrand Vacuu-Pure, for example) via a side arm gas inlet controlled with a ground glass stopcock or Teflon tap, and one linked to a source of dry inert gas (typically argon or nitrogen).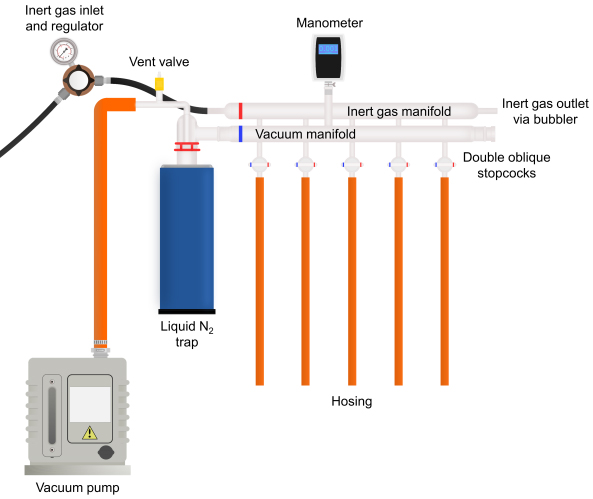 In order to carry out their air-sensitive experiments, users connect up their Schlenk line and 'cycle' them to ensure that they're completely free of oxygen or moisture inside before beginning.
The Schlenk Line Survival Guide
Back in 2020 we were thrilled to share scientist, Dr Andryj Borys', updated open-access guide and we're even more excited to let you know that there are far greater resources available now within a new updated version.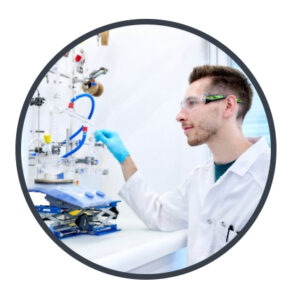 The guide has been extensively expanded with illustrated tutorials including the areas below (external links to this website):
Transferring Liquids:
Inert Atmosphere Filtrations:
NMR Preparation:
Distillations:
There are tips on safety, troubleshooting, and so much more.  All of this information is designed to be a helpful resource for those performing – or teaching – air and moisture sensitive techniques.  What's so fantastic about this, is that readers are encouraged to share the wealth of information provided and de-mystify a fabulous laboratory tool that's often seen as a bit of a dark art!
Amongst the key information provided, Andryj recommends using flexible hosing, enabling versatile positioning of flasks, using greased ground glass joints or Teflon taps when applying vacuum, and using rubber septa when manipulating liquids under an inert atmosphere.  He also recommends that you get to know your own Schlenk Line:
"…This may include: (i) knowing the usual vacuum pressure; (ii) knowing what the vacuum pump sounds like; and (iii) knowing the typical inert gas flow rate and pressure. Being aware of these features will help to identify when there is a potential problem in the Schlenk line and how to properly address them…"
Synthesis Workshop
Another useful open-access source of information is the Synthesis Workshop channel.  Dr Matthew Horwitz who created the channel was joined a little while ago by Andryj, who shared examples of common Schlenk Line techniques in this fabulous video:
Synthesis Workshop website: https://synthesis-workshop.com/
Synthesis Workshop is an open access video podcast exploring the field of organic synthesis. Through four complementary modules – Total Synthesis, Named Reactions, Research Spotlights, and Culture of Chemistry – investigating advances in many areas of the field and delving into the "human aspects" of having a career in chemistry.
Interested in updating your laboratory apparatus?
Here at Asynt, our expert scientific glassblowers offer a useful range of standard specification Schlenk Lines but also manufacture bespoke lines to meet your precise requirements.
Popular options for customisation include:
Choose either screw in style PTFE valves or glass stopcocks
Choose between 3, 4, or 5 ports
Main tubes are 24mm OD, with connectors available to suit, typically B19/B24.
If you'd like further information or would like to discuss the possibilities available to you, why not arrange an online One2One chat with our experts at your convenience?  You are also welcome to email [email protected], call on +44 (0)1638 781709 or click the LIVE CHAT box at the bottom right of your screen.