Bespoke Scientific Glassware
Our bespoke scientific glassware is all manufactured in the UK by our experienced expert glassblowers.
All Asynt laboratory reactor vessels are made to your precise specification so you can tailor each and every vessel to suit your chemistry; side arms, taps, drain valves, glass baffles, traditional proportions or squat vessels, jacketed, vacuum jacketed, amber coated…  every element can be customised.  There's no need to mess around with adapters and try and loop tubing around because your fittings aren't in the size or position you actually need with our huge range of bespoke scientific glassware available.
In addition to reactor vessels, we can manufacture borosilicate Schlenk lines, vessel liners, condensers, vacuum filtration funnels, flasks, gas bubblers and so much more.
Our experts can also often repair trusty glassware that has been damaged, therefore extending it's life and reducing the environmental impact of your laboratory – and helping your budget too.  Speak to one of our team today to discuss the possibilities…
Our team can work with you to specify precisely what glassware is required, which will then be manufactured in the UK to your unique specification.
Tailor your glassware to suit your precise needs instead of juggling adapters and connectors to try and fit your chemistry to your kit!
UK / Europe / Global Delivery
Developed in collaboration with our clients / Bespoke design service
Committed to developing sustainable & practical improvements for scientists worldwide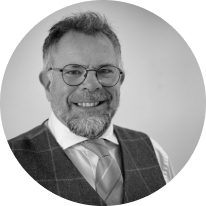 Asynt's unique range of innovative and sustainable products/services are developed by chemists for chemists - to make your lab life easier.
Martyn Fordham, MD
Customers also purchased