LightSyn Illumin8 Cooling/Heating Base
The LightSyn Illumin8 Cooling/Heating Base allows for active temperature control of your photochemical reactions, with the base suitable to use from -30 oC to 80 oC, keeping your sample temperature stable despite inevitable temperature increases from the UV waves throughout prolonged exposure
Suitable for use with your existing equipment
The LightSyn Illumin8 Cooling/Heating Base requires connection to a circulating thermostat so ultimate performance will depend upon the cooling power and temperature range of your chosen device. Suitable for use with all popular circulator systems such as those manufactured by Julabo, Huber, Grant and Lauda amongst others.
This base is supplied with M16 threaded connectors as standard however alternative fittings are available if preferred.
LightSyn Illumin8 Photochemical Reactor
Asynt's LightSyn Illumin8 parallel photoreactor is ideal for safe, benchtop parallel photochemistry.  This is a no-compromise, safe, well-engineered module based on the DrySyn OCTO MINI 8-position reaction station with magnetic stirring and optional heating via any standard hotplate stirrer.   With the addition of the NEW cooling base to the product range, further flexibility and control of the reaction parameters are enabled.
Purchasing information
Part Number: ADS26-BASE
Supplied with M16 threaded connectors as standard
If you wish to use simple push-on tubing please ask for collar nuts and hose barbs in your preferred size to be included in your quotation
Temperature range
Suitable for -30 oC with appropriate circulating thermostat
LightSyn Illumin8 suitable for heated reactions to 80 oC via magnetic hotplate stirrer
Most popular LED modules; Royal Blue 450 nm LEDs OR 365 nm LEDs.
Other wavelengths include: UVA LED 390-395 nm, Violet LED 405 nm, Blue LED 460-470 nm, Green LED 520-525 nm, Yellow LED 590-595 nm, Red LED 620-625 nm, Deep Red LED 650-660 nm.
Each reaction tube has a dedicated 10 w rated LED COB light source
8 position photoreactor, utilising DrySyn OCTO parallel reactor
8 x reaction volume from 1 mL to 8 mL
Even photon flux to each reaction
Sampling & additions possible to individual reaction tubes whilst in operation
Heating up to 80 oC
Low cost consumables
Safe and simple to use
UK / Europe / Global Delivery
Developed in collaboration with our clients / Bespoke design service
Committed to developing sustainable & practical improvements for scientists worldwide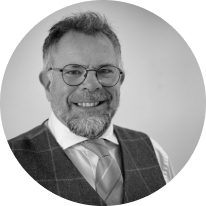 Asynt's unique range of innovative and sustainable products/services are developed by chemists for chemists - to make your lab life easier.
Martyn Fordham, MD
Customers also purchased