fReactor PhotoFLOW photochemistry reactor for Flow Chemistry
New Photochemistry in Flow tool
The fReactor PhotoFLOW module was developed by the University of Leeds in conjunction with Asynt and gives scientists the potential to develop and expand their Flow Chemistry work quickly and easily to include photochemistry. This new addition to the Asynt fReactor Flow Chemistry platform is manufactured in the UK and currently available in two wavelengths to suit your requirements:
460 nm (Blue) 10w LED COB chips
365 nm (UV) 10w LED COB chips
Available to purchase individually, each fReactor PhotoFLOW module is positioned over the desired fReactor position in your set-up with easy to use plug-and-glow technology.  With a fully customisable configuration possible, you can choose to use just one of these compact Photo modules on one of the 5 fReactor CSTRs, or add further Photo modules for up to five positions running simultaneously.  You can run all five of these from just one power supply using optional splitter leads.  Each module includes an individual cooling fan to ensure temperature control to the contained CSTR.
The fReactor platform was developed by the University of Leeds and Asynt Ltd to offer an affordable entry point into the world of flow chemistry. fReactor provides an expanding platform of intuitive and flexible flow reactors for the development of materials and synthesis routes.  Integrating the efficiency of pipe-flow processing with the advanced mixing of a CSTR, the fReactor delivers a general "plug-and-play" setup which is well-suited to multiphasic reactions; allowing chemists to explore continuous-flow processing, with little expertise required.
Take your Flow Chemistry to the next level now with fReactor PhotoFLOW.  Contact us to discuss the possibilities!
Choice of two models initially available:

460 nm (Blue) 10w LED COB chips
365 nm (UV) 10w LED COB chips
Other wavelengths available on request as custom orders

fReactor PhotoFLOW photochemistry reactors available individually for easy customisation of your reaction setup
Suitable for heating up to 55 oC max
One power supply is sufficient for up to five modules via connection splitter
Designed and manufactured in the UK
UK / Europe / Global Delivery
Developed in collaboration with our clients / Bespoke design service
Committed to developing sustainable & practical improvements for scientists worldwide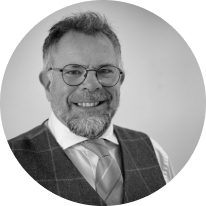 Asynt's unique range of innovative and sustainable products/services are developed by chemists for chemists - to make your lab life easier.
Martyn Fordham, MD
Customers also purchased