DrySyn Classic Kit
The DrySyn Classic Kit was the first DrySyn we developed, but it's still our best seller due to its simplicity, performance and features.
Available as a comprehensive kit to heat round bottom flasks in 50 mL, 100 mL, 250 mL, 500 mL, and 1000 mL sizes the DrySyn Classic Kit also comes with adjustable and removable feet allowing fitment to any magnetic hotplate stirrer and permanently attached heat resistant safety lifting handles.
The world renowned DrySyn system enables clean, safe synthesis without the hazards or problems associated with silicon oil baths or heating mantles.  With heating rates the same as an oil bath there is no need to change your chemistry either.
Currently on offer with our high-performance air-cooled CondenSyn waterless condenser.
Powerful stirring and great visibility of reaction
Inserts adapt the block for smaller round bottom flasks in sizes 50/100/250/500 mL
Space to insert probe for temperature control
Heat resistant handles for easy and safe lifting
Solid aluminium base takes 1,000 mL flask
Safe temperature ramping to 300 o

C

Safe, clean synthesis without the dangers of oil
Fits standard hotplate stirrers including IKA and Heidolph
DrySyn Classic complete kit comprises 1 x 1L base with heat resistant handles, plus 1 each of 50/100/250/500 mL insert
All components also available separately
UK / Europe / Global Delivery
Developed in collaboration with our clients / Bespoke design service
Committed to developing sustainable & practical improvements for scientists worldwide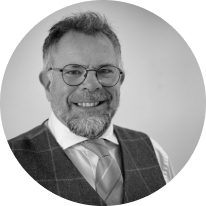 Asynt's unique range of innovative and sustainable products/services are developed by chemists for chemists - to make your lab life easier.
Martyn Fordham, MD
Customers also purchased