DrySyn Classic 1L Base
The DrySyn Classic Base comes with heat resistant handles and is suitable for 1L round bottom flasks.
The unique design of the DrySyn range allows them to be used with any standard hotplate stirrer, and offer safe, clean synthesis without the need to change your chemistry.
Also available as part of the complete DrySyn Classic Kit and the DrySyn Classic Starter Kit.
Powerful stirring and great visibility of reaction
Inserts available to adapt the block for smaller round bottom flasks in sizes 50/100/250/500 mL
Space to insert probe for temperature control
Heat resistant handles for easy and safe lifting
Solid aluminium base takes 1000 mL flask
Safe temperature ramping to 300 oC
Safe, clean synthesis without the dangers of oil
Fits standard hotplate stirrers including IKA and Heidolph
UK / Europe / Global Delivery
Developed in collaboration with our clients / Bespoke design service
Committed to developing sustainable & practical improvements for scientists worldwide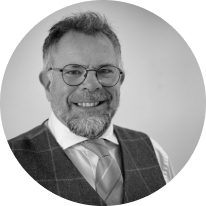 Asynt's unique range of innovative and sustainable products/services are developed by chemists for chemists - to make your lab life easier.
Martyn Fordham, MD
Customers also purchased