Leading multinational life sciences tools and diagnostics developer – QuantuMDx has invested in the Asynt professional range of non-ducted laboratory filtration and fume cabinets which sit directly on benchtop surfaces.
QuantuMDx purchased the cabinets to aid the development of their portable diagnostic device Q-POC, which will provide sample-to-result diagnostic and drug susceptibility testing for a range of diseases in under 20 minutes by the patient's side. The device is due for commercialisation in 2018.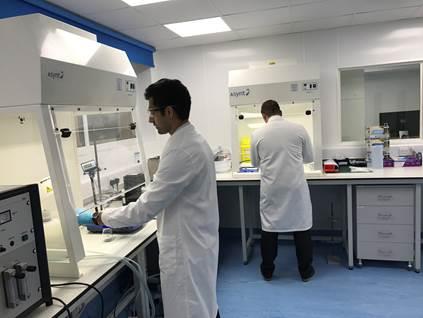 Asynt non-ducted laboratory filtration and fume cabinets employ extra-large capacity activated carbon filters for removal of fumes and/or HEPA filters for particulate removal. The filters are up to 30% bigger than that of rival systems and also significantly deeper making fume removal more efficient, effective and therefore delivering improved safety. Providing full compliance with COSHH regulations, the airflow in Asynt non-ducted cabinets is constantly monitored and the user alerted by audible and visual alarms should the airflow fall below optimum levels. All Asynt non-ducted fume cabinets come with an industry-leading 5 year warranty. This means Asynt will warrant units to be free from defects in materials or workmanship for a period of 5 years from the date of delivery.
Dr Sam Bhatt, Senior Scientist at QuantuMDx Group Limited, commented "Having reviewed the market for what was available, the Asynt professional range of non-ducted laboratory filtration and fume cabinets were a clear choice because of their excellent filtration performance, operational safety features, build quality and reliability." He added "The technology being established by QuantuMDx is paramount to the improvement of healthcare systems in clinics and hospitals in low middle income countries. The possibility of medics carrying out rapid disease diagnostics in minutes, in the field, leads to an exciting future in DNA analysis utilising miniaturised portable devices." Asynt is proud to be supplying innovative solutions to this cutting edge molecular diagnostics company.
For further information on the non-ducted laboratory filtration and fume cabinets range please visit www.asynt.com/products/general-laboratory-equipment/laboratory-enclosures/ or contact Asynt on +44-1638-781709 or [email protected].
You can download a full PDF copy of the press release HERE.