GP540 General purpose cabinet
In the modern laboratory space is always at a premium and the GP540 general purpose cabinet offers great flexibility for your every day benchtop work.  The GP540 has many uses within the laboratory environment.
A low noise 2 speed fan draws air through our trusted 300 series H14 HEPA filter before returning it to the lab.
The front panel can be easily removed which provides open access to the interior. The base is open to allow easy positioning over fixed or heavy equipment.
With a wide range of options available for every component from the base, front panel, power, filters, fans, lighting, alarms and more it can be configured to suit your precise requirements.
If you're looking for a different kind of enclosure though, we can build a fully custom system to your specification.  Please contact us to discuss your chemistry!
| | |
| --- | --- |
| Weight | 12.7 kg |
| Electrical | 230VAC 50w, meets LVD and is CE marked (120VAC available) |
| Air Speed | Fully variable between 0.3m/s – 0.9m/s (factory settings) |
| External Dimensions | Height 500mm, Depth 605mm, width 540mm |
| Filter | Waysafe '300 series' H14 HEPA filter, 99.999% efficiency @ 0.3 micron |
| Pre filter | Fitted as standard (simple low cost G4 grade filter pad protects the HEPA filter from large particles to extend service life) |
| Base Tray | Not fitted as standard |
Various options available including a range of filters, 120VAC option and an integral composite aluminium base in a range of colours.
Ductless – Air is filtered and clean air is circulated back into the workplace
H14 HEPA filtration (99.999% efficient) as standard with other options available
Easy benchtop installation
Low maintenance
2 speed fan
Lift off front for ease of access
Fast global delivery
Protects operators
Can be used for all types of sample analysis including Asbestos
Can also be used for other processes media weighing etc.
Made to order in the UK, with short production turnaround times
UK / Europe / Global Delivery
Developed in collaboration with our clients / Bespoke design service
Committed to developing sustainable & practical improvements for scientists worldwide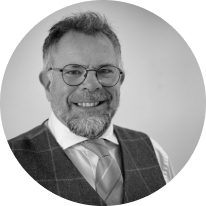 Asynt's unique range of innovative and sustainable products/services are developed by chemists for chemists - to make your lab life easier.
Martyn Fordham, MD
Customers also purchased