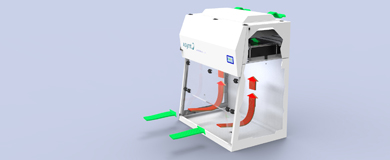 Asynt announces a new range of high quality, non-ducted fume cupboards designed to sit on a standard laboratory bench.
Available in standard widths from 550mm to 900mm wide, all Asynt fume cupboards are fully compliant with COSHH regulations and international standards including BS7989:2001 for filtration fume / particulate cupboards. During manufacture, every aspect of the cabinet, from the electrics to the metalwork, is meticulously checked and monitored to ensure high reliability, optimal operation and safety is achieved.
All Asynt fume cupboards employ extra-large capacity activated carbon filters for removal of fumes and/or HEPA filters for particulate removal. The filters are up to 30% bigger than that of rival systems and also significantly deeper making fume removal more efficient, effective and therefore providing improved safety.
Fume cupboards may be supplied with an optional dual filtration capability (carbon/carbon, carbon/HEPA or HEPA/HEPA) making them suitable for highly effective use with volatile solvents, toxic chemical work as well as safely containing dust and particulate hazards.
The new range of Asynt non-ducted fume cupboards come with an industry-leading 5 year warranty. This means Asynt will warrant units to be free from defects in materials or workmanship for a period of 5 years from the date of delivery.
Download the full Press Release HERE: asyntpr40 Non Ducted Fume Cupboard