Large filtration fume cabinet
We're pleased to announce a NEW professional range of non ducted laboratory filtration and fume cabinets.
This is a 900mm wide bench mounted large filtration fume cabinet, which incorporates the largest possible filter to provide full compliance with COSHH regulations. Compliant with BS7989:2001, this offers excellent value for money and a range of carbon and HEPA filters to suit all applications and comes with a 5 year manufacturers warranty.
The main filter consists of 18kg of activated carbon that will be specifically matched to your application (See over for a full list of available carbon filters) and are optionally monitored with a hydrocarbon detection system to assist in the replacement of carbon filters. As an alternative, a HEPA filter may be specified with provides containment of particulate to 0.3µm.
The airflow into the cabinet is constantly monitored and the user is alerted by audible and visual alarms should the airflow fall below optimum levels.
External Dimensions: 900mm (w) x 600mm (d) x 1082mm (h)
Work Area Dimensions: 900mm (w) x 600mm (d) x 760mm (h)
Aperture Size: 800mm average (w) x 250mm (h)
Carbon Filter Size: 18kg
Carbon Filter Type: Activated Carbon – matched to specified application
Pre-filter: 700mm x 360mm Filtrate (95% efficient at 0.5microns)
Face Velocity: 0.5m/s
Airflow Monitoring: Low airflow system with warning light and audible alarm
Internal Lighting: 18watt Fluorescent strip lamp isolated from the working area
Noise Level: <55db(A)
Electrical Requirements: 230V / 50Hz – 400w
Construction: Head Section: Epoxy Powder Coated Mild Steel
Base Section: Epoxy Powder Coated Mild Steel uprights with clear acrylic side/rear panels and front folding sash
Worksurface: Optional stainless steel with deep side lip for spillage retention
Designed and manufactured in the UK these systems are covered by an industry-leading 5 year warranty. This warranty includes parts (not consumables), labour and where applicable, covers repair at your (UK mainland) premises. This is subject to terms and conditions.
This unit should be serviced annually.
UK / Europe / Global Delivery
Developed in collaboration with our clients / Bespoke design service
Committed to developing sustainable & practical improvements for scientists worldwide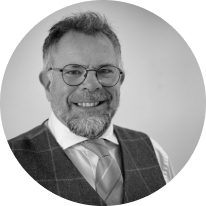 Asynt's unique range of innovative and sustainable products/services are developed by chemists for chemists - to make your lab life easier.
Martyn Fordham, MD
Customers also purchased