The long winter months might have been cold but they've not been quiet as our chemists have been busy developing new apparatus!
Check out our new highlights below with some exciting innovations for your lab: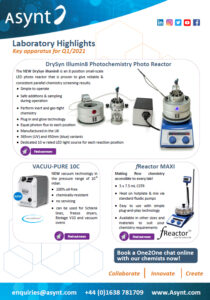 Interested in finding out more?  Book a face to face chat online at your convenience with one of our team in just a few seconds HERE or you can of course give us a call on +44 (0)1638 781709 or email our technical team at [email protected].
Don't forget – you can keep up to date with all our news and announcements via our newsletter so sign up now; it takes less than a minute and we will never share your details with anyone else or spam you!