There are many laboratory applications in which chemical reactions occur, from water treatment to scientific research. Safely conducting these reactions is crucial for lab personnel and reaction results, which is why you need the correct equipment. Reaction vessels contain reactants and offer a controlled, safe environment for the reactions to take place. However, some applications require more than a standard vessel, which is why in this blog post, we'll look at when you might need a bespoke reaction vessel.
What is a Reaction Vessel? 
A reaction vessel is typically thought of as a glass container designed for use in chemical reactions. Reactants are contained inside this reaction vessel so that a chemical reaction can occur in a controlled setting. Reaction vessels are versatile products and can be manufactured in a multitude of configurations to suit a wide range of applications.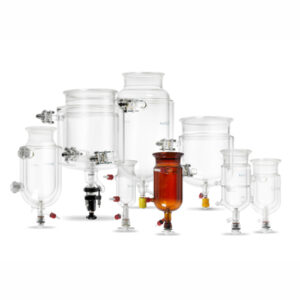 Most manufacturers provide reaction vessels in different sizes and with the option to include a thermostatic jacket. They will generally also come with lids and can be designed with multiple taps, valves, and ports to allow additions to be made or samples to be taken when necessary, and enable further accessories to be linked into the reactor setup . However, if a standard design doesn't fit your requirements, you will likely find that these vessels can be tailored specifically to your needs, providing you with a bespoke reaction vessel.
What are the Applications of a Bespoke Reaction Vessel? 
Because reaction vessels are used for many different purposes, it's understandable that these situations cannot always be supported by 'one size fits all' equipment. It might be worth considering a bespoke reaction vessel if you require a particular shape vessel or your side arms to be in a particular position, for example.
Varied Temperature Applications
Carrying out chemical reactions at extreme temperatures often requires specific glassware, so why not tailor it further with a bespoke solution? If you need a vessel to withstand a temperature range of -100°F to +400°F (-73°C to 204°C) and would like a specific design, then a bespoke vessel made with PTFE is a reliable option.  You may require the entire vessel to be manufactured from this – or even stainless steel or an alternative alloy such as Hastelloy.
New Requirements
As your research develops, you may require additional vessels without the need to upgrade or change your existing lab reactor support system. In these circumstances, purchasing a bespoke vessel is an ideal solution. The vessel can be designed around the fixtures and fittings of that support.
UV Sensitive Applications
If your chemical reactions are UV sensitive, this problem can be combated by adding an amber coating to a vessel. Amber coatings are frequently used in the food, life sciences, and pharmaceutical industries because it protects the materials from UV rays and eliminates the risk of damage.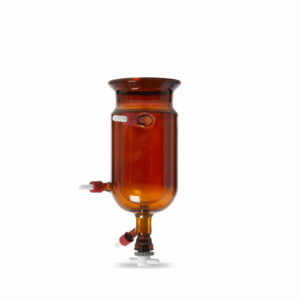 Other Options
There are many options if you require a bespoke reaction vessel. These include build materials, the number and configuration of taps and ports, the drain system, lids (materials and configurations), jackets (simple jacketed vessels or vacuum jacketed vessels), baffles (built-in to the vessel, or add-on components to the lid), adaptations to accept your planned heating method, and much more.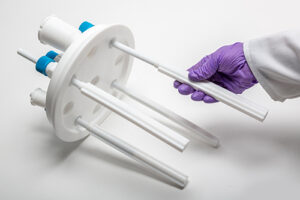 ASYNT: Manufacturing Bespoke Reaction Vessels
Asynt provides innovative laboratory equipment and services to chemists worldwide, ensuring they have the most suitable products for their applications – bespoke solutions included. We work with our clients to discuss their requirements and ensure we design a product that works for them. Additionally, we are always happy to offer advice based on years of experience and expertise. For example, the shape of a vessel can significantly impact stirring, and we know how to address this.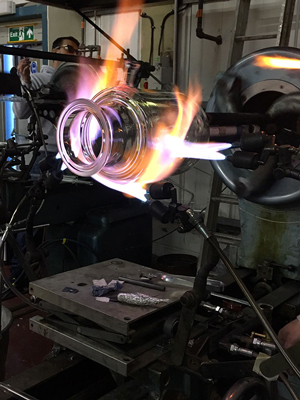 We offer a wide range of standard specifications for our vessels that you may find useful, even as a starting point to configure your desired setup, but if you require bespoke laboratory vessels or want to learn more about the ReactoMate range of complete lab reactor solutions, please contact a member of the Asynt team today.
Interested in what other scientists are using their lab reactors for?
We talked to chemists and innovators at UK company, Revive-Eco who are using their ReactoMate lab reactor with the CondenSyn MAXI to scale up their patent-pending process to recycle used coffee grounds to create high value compounds with a similar fatty acid profile to palm oil, thus offering a sustainable alternative to manufacturers.
Find out more: www.asynt.com/press-releases/sustainable-alternative-to-palm-oil/