ReactoMate ATOM Support
Designed with the needs of process chemistry laboratories in mind, the ReactoMate ATOM support is suitable for all sizes of vessels up to 30,000 mL within a compact footprint and with all-round visibility and access.
The ATOM support features an innovative design allowing you to easily adjust the height of your reaction vessel with just one hand.  With a chemically resistant build, and NEW overhead stirrer support, the ATOM support allows you to reach pilot scale reactions all within the foot print of a bench top system.
Alongside the standard configurations shown, the ATOM support is available with a number of extra options including castors, drip trays and clamps for additional vessels.
Fully compatible with all leading brands of overhead stirrer and suitable for vessels up to 30,000 mL capacity, the ATOM support is the complete stand for all of your laboratory scale-up needs.
The stainless steel and aluminium framework comes complete with a neck clamp to secure your vessel in place, as well as a bottom support ring to stabilise larger vessels.  The unique overhead stirrer support mechanism allows for simple alignment and the secure lifting mechanism allows for the use of all reaction vessels up to 30,000 mL.
Accessories and customisation available to suit your specific needs.
UK / Europe / Global Delivery
Developed in collaboration with our clients / Bespoke design service
Committed to developing sustainable & practical improvements for scientists worldwide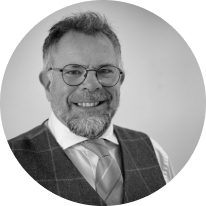 Asynt's unique range of innovative and sustainable products/services are developed by chemists for chemists - to make your lab life easier.
Martyn Fordham, MD
Customers also purchased