Laboratory Reaction Vessels
With a wealth of experience in scientific glassware and engineering, we can offer a huge range of ReactoMate laboratory reactions vessels.  Whether you need mobility tanks, jacketed vessels or vacuum jacketed vessels we can work together to provide you with the perfect system to suit your chemistry.
In addition, as all vessels are manufactured specifically for you here in the UK, we can customise your chosen vessel to include a wide variety of accessories such as PTFE or stainless steel agitation, standard or magnetic couplings, a range of taps and valves, and baffles to name just a few.  Baffles can be built in to the reaction vessel itself or can be provided as part of a PTFE structure that can be added/removed as needed.
We also offer ReactoMate reaction vessels with an amber coating for those carrying out photochemistry, and stainless steel vessels for those requiring them.
Every vessel is made to your specification here in the UK by our expert scientific glassblowers.
From 50 mL to 50 L plus, size really isn't an issue, and every vessel is configured to meet your specific needs.
We work closely with a company called Analytical Innovations to provide essential tools and know-how for efficient process understanding and optimisation, in particular relation to scale-up work.  Analytical Innovations' research involves assessing how various types of agitator, the size and shape of the reactor and the addition of baffles affect mixing capabilities.
Please contact us for further information, or to talk about your chemistry to see how ReactoMate could benefit your laboratory.
UK / Europe / Global Delivery
Developed in collaboration with our clients / Bespoke design service
Committed to developing sustainable & practical improvements for scientists worldwide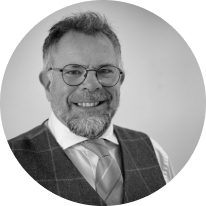 Asynt's unique range of innovative and sustainable products/services are developed by chemists for chemists - to make your lab life easier.
Martyn Fordham, MD
Customers also purchased