HydroGen Intelligent Gas Generator
The HydroGen Intelligent Gas Generator series is the ideal choice for laboratories desiring on-site hydrogen generation, offering the highest quality build, reliable performance and safe operation. This system offers low power consumption, rapid start-up and high quality hydrogen gas production (99.999% purity) and a range of models providing hydrogen flow rates from 100 to 600 cc/min with outlet pressure up to 10 bar (145 psi).  Additionally, up to 20 units can be connected in parallel mode using an external control box. The touch-screen LCD interface provides simple and user-friendly management of all functions on the unit.
The HydroGen Intelligent Gas Generator design also includes a new long-life multilayer electrolytic cell with polymeric membrane (PEM) using distilled water. No acid or alkaline solutions are used, making it a far better choice for your sustainable laboratory practices.  The innovative drying system ensures the maximum grade of hydrogen purity, protects the GC thanks to its innovative humidity safe guard, and HG ST BASIC is completely maintenance-free and allows continuous operation, 24 hours a day.  The on-board CPU automatically check for internal leaks and constantly control the operating parameters to guarantee full safety.
Applications:
In the past helium has been used as a carrier gas through the capillary tubes but as it gets more expensive the next best gas is hydrogen. In the past connecting a hydrogen cylinder to a capillary tube has been a big NO in case the tube breaks and hydrogen enters the oven. With the generators not only do they have a very small internal volume but if they detect a pressure drop on the outlet they seal off the outlet and stop producing. This feature makes them more acceptable to GC carrier gas, as well as the fuel gas of course.
Why buy a Hydrogen Intelligent Gas Generator instead of getting your supply delivered?
It is a capital equipment purchase and off-set against corporation tax, where as renting a cylinder cannot be.
Green Labs: do away with environmentally unfriendly deliveries on trucks each week and produce your own supply as required.
Cylinders are 300 bar in outlet pressure whereas the generator is 7, so far less dangerous which, in addition to the safety value, means that typically insurance is  far lower.
Handling cylinders and liquid gases has a range of complications and people need training before being able to do so. This isn't necessary with generators.
Convenience: the generator can run 24 hours a day and requires no maintenance.  Your supply is always there for you when needed unlike cylinders which of course empty – usually at the most inconvenient time!
Calibration:  some instruments need re-calibrating when you change a cylinder over which takes time but this isn't required when used with a generator.
100-240 Vac 50/60 Hz
Water quality required: Deionized, ASTM II, <0.1uS
Water tank capacity: 0.3 Litres
Quick installation
Easy use
Outlet connection: 1/8″ compression fitting
Drain Connection: Quick release push-in fitting
Automatic tank refill
Hydrogen flow rates available: 100 / 120 / 160 / 250 / 350 / 600 cc/min
ZeroAir flow rate up to 2,000 cc/min
Pressure up to 10 bar (145 psi)
Hydrogen purity: 99.9999%
THC: < 0.1 ppm
RS 485 and USB as standard
LAN optional
Dryer with no maintenance
High pressure GLS electronically controlled
(patented)
Compact footprint – Dimensions (W x D x H): 9.5 x 44 x 48 cm
Net weight (no water in tank): 18 kg
UK / Europe / Global Delivery
Developed in collaboration with our clients / Bespoke design service
Committed to developing sustainable & practical improvements for scientists worldwide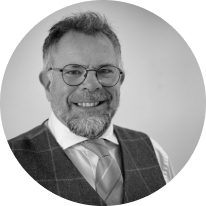 Asynt's unique range of innovative and sustainable products/services are developed by chemists for chemists - to make your lab life easier.
Martyn Fordham, MD
Customers also purchased