Asynt report how award-winning formulation and development lab – Here2Grow Cosmetics & Homecare Labs (Selby, UK) used the ReactoMate DATUM laboratory reaction vessel system in the development of a next generation clinical haircare product.
To tackle common scalp issues encountered by patients, a tricology clinic had been developing scalp therapy products in collaboration with formulation laboratories and manufacturers. However, with multiple active and incompatible ingredients, the formulations created were often unstable. Here2Grow was approached to tackle the issues through the creation of an effective shampoo and conditioner with hypoallergenic properties.

Dr Henry Brew, CEO of Here2Grow commented "The formulation challenge posed by the tricology clinic required us to prepare a hair care product which involved a specific mixing, heating, and processing regime. By using the ReactoMate DATUM we were able to not only improve the formulation process and meet the specifications of the new product in a repeatable and consistent manner, but also save our company time and money."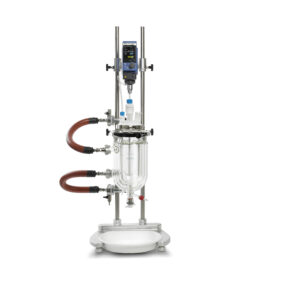 He added "Throughout the haircare product formulation and development process we found the Asynt development team were knowledgeable, friendly and responsive, helping us meet our deadlines. Beyond this specific project, we are using the ReactoMate Datum and laboratory reaction vessels from Asynt with a range of other apparatus to trial scale-up formulations, design formulation processes and perform fundamental research on various liquid materials and ingredients we are looking to integrate into formulated commercial products."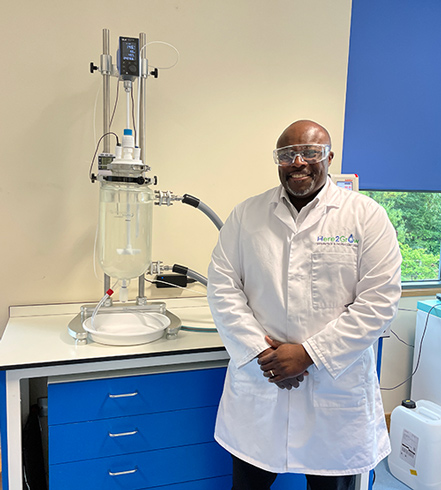 Through the trialling of multiple prototypes, a stable formulation was produced which significantly reduced dandruff, itching, and fungal activity. Here2Grow's success at developing a hypoallergenic shampoo and conditioner has made a valuable step forward in the improvement of scalp care products.
For further information on this formulation development project please visit www.asynt.com/asyntise-your-lab/custom-reactors/next-generation-clinical-haircare-product/ or contact Asynt on +44-1638-781709 / [email protected].
With clients ranging from global FMCG companies, to leading boutique organisations, Here2Grow Cosmetics & Homecare Labs (www.here2grow.com) provide bespoke formulation services, ensuring that clients can get the best market positioning to optimise their product development aspirations. The company assists with innovative ideation, development and manufacturing of products and has a growing portfolio in personal care, home care, detergents and dish wash technology and green technologies.
Sturdy, yet compact, the ReactoMate DATUM laboratory reaction vessel support system from Asynt is proven to enhance the stability and safety of your lab reactor and can accommodate a wide range of reaction vessels from 100 mL up to 5,000 mL. Changing a vessel supported by the ReactoMate DATUM is as simple as "Clip & Click" thanks to the novel neck clamp. Quick changeover between reactor vessel sizes enables simple reaction scale-up, whilst the ingenious mounting mechanism ensures excellent stability and alignment every time. The ReactoMate DATUM is fully compatible with all leading brands of overhead stirrers and circulator heating/cooling systems, making it flexible to suit your lab.
To download this PR in PDF format: Development team battle unstable & incompatible ingredients for a hypoallergenic win
Une équipe de développement se débat avec des composants instables et incompatibles pour remporter une victoire hypoallergénique
Entwicklungsteam hofft, beim Kampf mit instabilen und inkompatiblen Inhaltstoffen einen hypoallergenen Sieg zu erringen
Lucha del equipo de desarrollo contra los componentes inestables e incompatibles para obtener una ventaja hipoalergénica
Find out more
To request further information on the ReactoMate DATUM system, or to define the ideal alternative for your chemistry, please contact us today.  You're welcome to chat with our technical team now via the LIVE CHAT box at the bottom right of your screen, or call us on +44 (0)1638 781709.