We are all in favour of encouraging the budding chemists amongst us, and if making edible ectoplasm slime for Halloween is what it takes? Fine!
We found this really simple recipe at the About Chemistry website that we couldn't resist sharing.  Hopefully it will add to the spooky aura at your Halloween celebrations!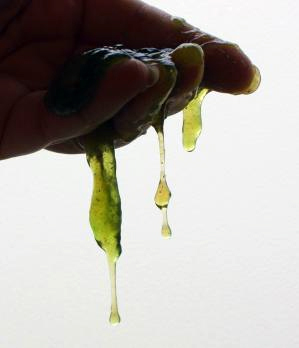 Ectoplasm slime materials:
You only need two ingredients to make basic slime, though you can add colouring to make the slime and combination of colours that you like or to make it glow in the dark.
1 teaspoon soluble fiber (e.g. Metamucil psyllium fiber)
8 ounces (1 cup) water
Optional: food colouring or glow paint/pigment
Instructions:
Pour the water and fiber into a large microwave-safe bowl
Microwave the ingrediants on high power for three minutes
Stir the ectoplasm! Return to the microwave and heat it for another three minutes
Stir the ectoplasm and check its consistency.  If you want drier ectoplasm, microwave it for another minute or two. Continue with this process until it reaches a consistency that you're happy with.
Add a drop of food colouring and / or some glow pain if desired.  You'll get an interesting effect if you completely mix the colouring into the ectoplasm, such as a slime with glowing streaks!
Store the ectoplasm in a sealed back to prevent dehydration.  It will last for a week or longer as long as you keep it from drying out.
If you're interested in mixing slightly more complex elements together though, we'd love you to consider the ReactoMate jacketed laboratory reactor range – find out more now:  https://www.asynt.com/products/jacketed-lab-reactors/