New from Vacuubrand, the VACUU-PURE 10C screw pump uses revolutionary new technology to deliver oil-free, chemically resistant vacuum down to 10-3 mbar.
With no oil to change, no wear parts to replace, and no need for cold traps, VACUU-PURE provides reliable and uninterrupted vacuum.  This makes it absolutely ideal for work with oxygen and moisture-sensitive compounds.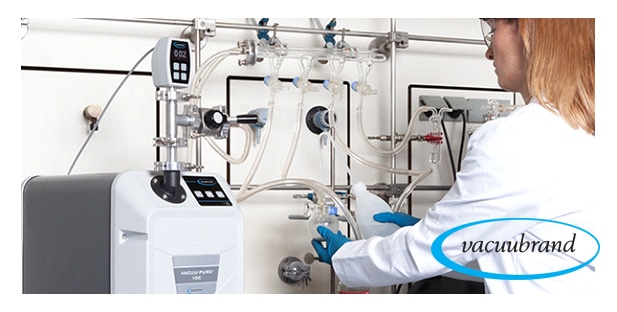 Advantages for use on the Schlenk line:
Ultimate vacuum down to 10-3 mbar
Oil-free and chemically resistant
High pumping speed of 9 m3/h – support multiple Schlenk lines simultaneously
No need for cold traps – reduce hassle and operating costs by eliminating liquid nitrogen or dry ice
Designed for continuous operation
Find out more about this amazing new technology HERE!