Innovative and effective new technology from world-leaders, Vacuubrand
VACUU-PURE clean processes: the VACUU-PURE 10C screw pump uses revolutionary new technology to deliver oil-free, chemically resistant vacuum down to 10-3 mbar.
What makes the VACUU-PURE so special?
The new vacuum pump combines three important benefits for the user: 100% oil-free, chemically-resistant, and no wear parts.
With no oil to change, no worn parts to replace, and no need for cold traps, VACUU-PURE provides reliable and uninterrupted vacuum.  This makes it absolutely ideal for work with oxygen and moisture-sensitive compounds.
VACUU-PURE Clean processes for Schlenk lines:
Ultimate vacuum down to 10-3 mbar
Oil-free and chemically resistant
High pumping speed of 9 m3/h – support multiple Schlenk lines simultaneously
No need for cold traps – reduce hassle and operating costs by eliminating liquid nitrogen or dry ice
Designed for continuous operation
Find out more about this amazing new technology HERE!  We can also supply Schlenk lines that are custom manufactured in the UK by our expert scientific glassblowers.  We offer a range of "standard" specification Schlenk lines but as they're made to order we can adapt these easily to meet your requirements.  There is more information via our product page here: www.asynt.com/product/schlenk-lines/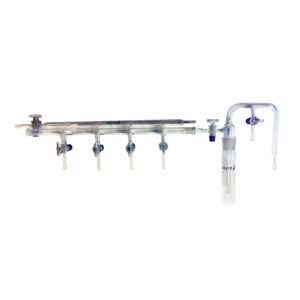 Something we've shared before, but which you might be interested in, is a great blog called the Schlenk Line Survival Guide!  You can find it online here: https://schlenklinesurvivalguide.com/ It has loads of handy tips and advice and we think it's definitely worth a look.
If you're interested in finding out more about the VACUU-PURE and how it could benefit your work then please don't hesitate to contact our experts either by phone (+44 (0)1638 781709), email ([email protected]) or via our LIVE CHAT box (bottom right corner of your screen) so we can talk it through.