It's been an incredibly busy month here which means we have plenty to update you on.  Welcome to the Asynt May 2023 Newsletter!
If there's something you'd like to see included in our newsletter in the future then please do get in touch.  Read on to find out how to receive your own copy of the Asynt monthly newsletter direct to your inbox too!
If you'd like to speak with us about an idea for a feature we would be so pleased to hear from you – you can find our contact details here: https://www.asynt.com/contact-us/ or get in touch via the Live Chat box at the bottom right of your screen.
Here are the topics for the Asynt May 2023 newsletter:
Welcoming friends, old & new: Our review of the prestigious CHEMUK 2023 exhibition, including new product launches and much more.
Critical temperature control in photochemistry: We launch TWO new additions to the Asynt LightSyn photochemistry range.
One-stop-shop: Find all your favourite brands under the Asynt roof!
Identifying fitting sizes in chemistry glassware: a straight-forward guide to standard worldwide glass fittings
Unique and useful:  we introduce a range of oil-free laboratory heating/cooling blocks for tubes/vials and even Schlenk tubes
The chemistry of doughnuts: Celebrating National Doughnut Week with our new blog, and doughnut-making video! (Spoiler: there's none left, sorry!)
Take a few minutes to read this months' edition online now – no registration required!  CLICK HERE (or image below)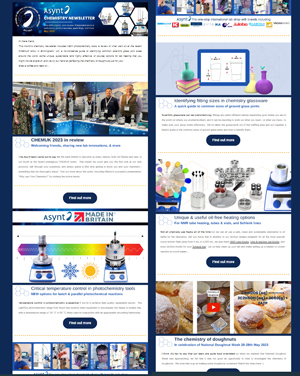 Don't miss the next edition of the Asynt chemistry newsletter
We really hope you've enjoyed this months edition of our chemistry newsletter but if you'd like next months copy delivered direct to your inbox simply click the link below – it literally takes just a few seconds to register… we will never spam you or share your details with anyone else.
Don't miss out!  Register here before you go: www.asynt.com/newsletter/

See the last two newsletters below: