We're slightly earlier than usual this month due to the UK national holidays, but we're here with the Asynt April 2023 Newsletter and we have some great topics for you so please do read on…
If there's something you'd like to see included in our newsletter in the future then please do get in touch.  Read on to find out how to receive your own copy of the Asynt monthly newsletter direct to your inbox too!
If you'd like to speak with us about an idea for a feature we would be so pleased to hear from you – you can find our contact details here: https://www.asynt.com/contact-us/ or get in touch via the Live Chat box at the bottom right of your screen.
Here are the topics for the Asynt April 2023 newsletter:
Diving deep for a sustainable alternative: UK sustainable material innovation company fighting to eradicate single-use plastics
Tailor your reactor to your chemistry: don't compromise – customise!
CHEMUK 2023: Get this on your diary and look out for Martyn Fordham's presentation, "Why use Flow Chemistry?"
NEW Hydrogen gas generators: Compact, high performance technology 
Summer is coming:  Dive in to the NEW April-June lab equipment deals
Cytotoxic & bioactive properties of tulips: It's not all about their looks!
Take a few minutes to read this months' edition online now – no registration required!  CLICK HERE (or image below)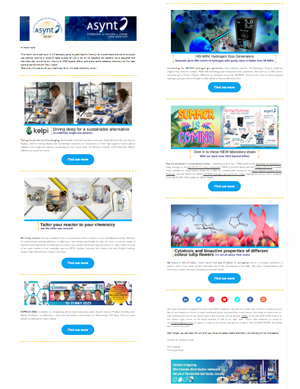 Don't miss the next edition of the Asynt chemistry newsletter
We really hope you've enjoyed this months edition of our chemistry newsletter but if you'd like next months copy delivered direct to your inbox simply click the link below – it literally takes just a few seconds to register… we will never spam you or share your details with anyone else.
Don't miss out!  Register here before you go: www.asynt.com/newsletter/

See the last two newsletters below: