Welcome to the Asynt June 2023 Newsletter!  It's rather warm here in East Anglia in the UK where Asynt's headquarters are located so we're focussing this month on some useful ways of making the most of your recirculating cooler, and some top tips for cooling down…
If there's something you'd like to see included in our newsletter in the future then please do get in touch.  Read on to find out how to receive your own copy of the Asynt monthly newsletter direct to your inbox too!
If you'd like to speak with us about an idea for a feature we would be so pleased to hear from you – you can find our contact details here: https://www.asynt.com/contact-us/ or get in touch via the Live Chat box at the bottom right of your screen.
Here are the topics for the Asynt June 2023 newsletter:
Maximise use of your recirculating cooler: everything in your lab needs to earn it's place there so we talk you through making the most of this useful piece of equipment.
No mess or contamination of samples in tubes/vials: Find out how you can use the DrySyn Reaction Vial Blocks to work with up to 27 reactions in parallel on just one hotplate.
Why would I need a liquid nitrogen generator?: With a huge range of applications and benefits to making your own LN2 supply in-house, we breakdown the key information for you.
Sometimes you need to play it cool!: Discover the wide range of options available from Asynt for your sub-ambient chemistry.
Cool chemistry for kids – and grownups!:  Summer STEM/Chemistry fun with our experiment making easy ice cream in a bag.
Take a few minutes to read this months' edition online now – no registration required!  CLICK HERE (or image below)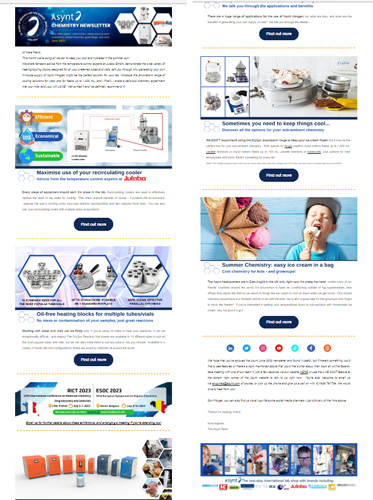 Don't miss the next edition of the Asynt chemistry newsletter
We really hope you've enjoyed this months edition of our chemistry newsletter but if you'd like next months copy delivered direct to your inbox simply click the link below – it literally takes just a few seconds to register… we will never spam you or share your details with anyone else.
Don't miss out!  Register here before you go: www.asynt.com/newsletter/

See the last two newsletters below: