Not long now!
#RealTimeChem week 2021 is running from 7th November and we can't wait!  If you're not familiar with this event, here's a little background information: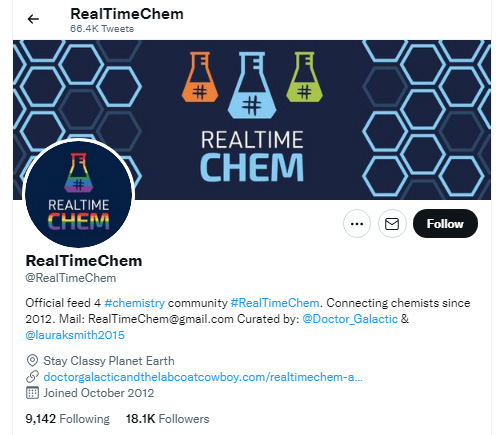 The #RealTimeChem project is an eighteen-thousand-strong twitter based community run by Dr Jay – a.k.a. @doctor_galactic (who by day is a publishing editor for RSC) with a great blog over at doctorgalacticandthelabcoatcowboy.com that is devoted to chemists anywhere in the world sharing the chemistry that they're working on no matter what their sector (teaching/industrial/research/etc). The Twitter feed is also curated by @lauraksmith2015  and the team also features @ndbrning who's the graphic designer and artistic director that helps bring the platform to life!

This is a diverse and inclusive community. You can take part no matter who you are, no matter what branch of chemistry that you partake in or what stage of your chemistry adventure you are currently at.
#RealTimeChem's mission
Connecting & Supporting Chemists
We are all spending an increasing amount of time online, so why not spend a little of it connecting with others in your field? The online world and Chemistry itself can sometimes feel a little isolating so this is a chance to be join in and feel part of a diverse world wide community. All types of chemist at any level are welcome, from students to teachers, from post graduates to old time Professors. You never know who you might connect with by sharing your chemistry via #RealTimeChem.
Sharing & Discussing Chemistry.
This is your chemistry, your ideas, your expertise….Your best chemistry jokes. Anything relating to chemistry can be united under the #RealTimeChem banner. Need help with something, why not ask the community? If you've shared your chemistry, why not discover someone else's? If something interests you, spark up a discussion. You never know where it might lead.
Enjoying Chemistry.
We all love chemistry, that's a fact. #RealTimeChem is another way to show what chemistry means to you every day. So have fun with it, be playful, have a laugh.
How do I use #RealTimeChem?
As mentioned above, if you are a chemist (or a budding one) doing any type of chemistry and you want to share it with the rest of the world, then get yourself signed up to Twitter and tweet about it using the hashtag "#RealTimeChem" in the Tweet.
Anything that involves chemistry counts – lab work, journal reading, writing papers, teaching, demonstrating, journal publications, field work, promoting your latest paper, instrumental work, baking cakes at home etc. It is entirely at your discretion so long as it's got some link to chemistry and you use the hashtag.
Where did #RealTimeChem begin?  Dr Jay takes us back…
"The inventors of #RealTimeChem are @azmanam (who sadly hasn't tweeted since 1st April 2016) and @JessTheChemist. One fateful day, the former decided to try and determine what was in Lemishine and tweeted the results using the hashtag. The hashtag itself was coined, by @JessTheChemist who produced a storify page to follow #RealTimeChem as it happened. I subsequently became involved in the hashtag by tweeting about experiments I was running in the laboratory whilst working at Imperial College.

One day, we had a discussion about having a #RealTimeChem day for fun and I volunteered to start a little account to keep track and promote things. The rest, as they say, is history."
Get involved with #RealTimeChem Week 2021
If you want to find out what others are doing then search for the #RealTimeChem hash tag and follow @RealTimeChem where this inclusive team retweets as much of the best chemistry as they can find each day – who knows what the chemists of the world might be doing today?
#RealTimeChem Week 2021 will be focused on celebrating community, inclusion and diversity so watch out for news via their Twitter feed.  Typically there are awards and all kinds of great stuff to get involved in so we would enthusiastically urge you to take a look! We'll see you there!
We'll be re-tweeting anything essential so don't forget to follow @Asynt too!