The Asynt CondenSyn waterless air condenser is a unique glass condenser, handmade individually in the UK, that requires no cooling fluid for operation.  By using a unique glass forming technique we have been able to manufacture a high surface area air condenser which is robust and effective, offering fantastic performance without wasting water.
Key Information & Benefits:
Performance of the CondenSyn is equivalent to a Leibig type condenser being used with tap water.
No issues with water leakage, and potential flooding.
By not using water the environmental impact is reduced as is the costs of water usage.
A tidy setup, clear visibility of reflux and easy to clean.
Suitable for use under vacuum.
Designed to integrate into multiple systems and applications, with fittings to suit.
The unique Asynt CondenSyn concept is protected by European Community Registered Designs.
Used by laboratories all around the world, CondenSyn is a great way to improve your environmental footprint without your work suffering.
So which size do I need?
The Asynt CondenSyn is available in 3 different lengths to enable effective condensing with your chosen flask size.
GB-C-200-(cone size): CondenSyn MINI
Recommended for use with flasks up to 100 mL in size*.
GB-C-350-(cone size): CondenSyn 350
Recommended for use with flasks up to 500 mL in size*.
GB-C-450-(cone size): CondenSyn 450
Recommended for use with flasks up to 1000 mL in
size*.
*Flask no more than half-filled with solvent
You can then also choose the cone size to suit your flask, with all standard European and USA sizes available.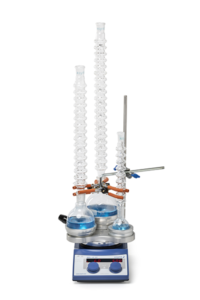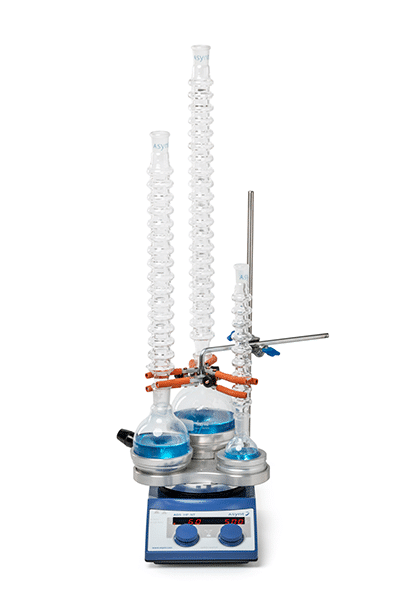 You can find more information on each of these via our product pages below:
Can I use CondenSyn for distillation?
Yes! The CondenSyn Distillation Adapter allows the CondenSyn to be used in a vertical orientation for distillation purposes.
Find out more on our product page here: www.asynt.com/product/condensyn-distillation-adapter/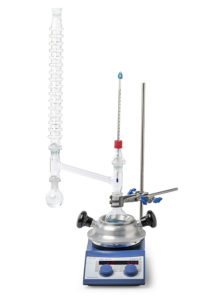 We hope that you find this information useful but if you'd like to discuss how CondenSyn could be used in your laboratory please contact us via email on [email protected] or by telephone on +44 (0)1638 781709.
We look forward to speaking with you!