ReactoMate Drain Manifold Kit
No more mess!
ReactoMate Drain Manifolds are designed to allow you to drain recirculating thermal fluid quickly and easily from your reactor vessel jackets, further minimising downtime between vessel swapping.
Built to perform and to last
Precision engineered in the UK from stainless steel with the high build quality Asynt is renowned for, the ReactoMate Drain Manifolds prevent fluid loss and contamination during the transition between vessels.
Keep your fume cupboard safe and clean
By utilising these drain manifolds, it's so easy to remove the heating or cooling thermal fluid from your reactor vessel jackets.  This prevents it from dripping all over your fume cupboard (which is an expensive waste), stops it from becoming contaminated during changeover (more expensive waste), and reduces the safety hazard that spilt fluid presents.
Use with our Quick-Release Couplings for the ultimate in easy vessel changes
The Quick-Release Couplings are designed to be used both with or without tools, so it's entirely down to you and how you're most comfortable working.  The soft-grip PEEK locking nut with scalloped edges makes for easy tightening by hand however this is machined with spanner flats on the back face.
Manufactured in the UK from chemically resistant PEEK and stainless steel components, the couplings are high quality, chemically resistant and reliable.  This system is simple to use and puts minimal stress on the glass joints on your vessels. The ReactoMate Quick-Release Couplings provide a fast, reliable solution for swift changeover of vessels and reducing downtime between reactions.
Contact us today for more information.
Supplied as a pack of 2 drain manifolds
Manufactured in the UK
Ideal to purchase with the ReactoMate Quick-Release Couplings
UK / Europe / Global Delivery
Developed in collaboration with our clients / Bespoke design service
Committed to developing sustainable & practical improvements for scientists worldwide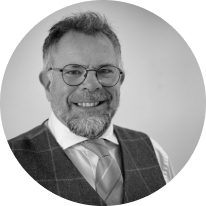 Asynt's unique range of innovative and sustainable products/services are developed by chemists for chemists - to make your lab life easier.
Martyn Fordham, MD
Customers also purchased