Multicell-PLUS Parallel High Pressure Reactor
The NEW Multicell-PLUS is an exciting addition to the Asynt range of pressure reactors, offering scientists an extremely flexible and customisable devise for screening chemical reactions in parallel under high pressure conditions.
Multiple cell volumes and configurations available, with pressure rating to 200 barg and working temperatures to 300°C and beyond depending on options selected.
Numerous factory-addition options available for heating, cooling, agitation, sampling/additions, condensing, liquid charging, gas sampling and much more. With such a huge wealth of options please do get in touch to discuss your chemistry requirements so we can tailor your system perfectly to meet your requirements.
Every Multicell-PLUS manufactured individually in the UK to suit your specific requirements
Manufactured from 316 stainless steel as standard but alternative materials available to allow higher temperatures and greater chemical resistance
Highly recommended option for support frame and lab jack
Unique Multicell-Plus safety interlock
Optional motor-driven magnetically coupled overhead stirring to handle higher viscosity materials
8 x 30 mL cells as standard, but 4, 6, and 10 cell arrangements possible with individual cell volumes up to 100 mL
Standard unit operates up to 50 barg and temperatures up to 200 ºC
Options up to 200 barg and temperatures of 300 ºC and beyond
Compact footprint of Ø220 mm for 4 & 6 cells units & Ø310 mm for the 8 & 10 cell assemblies
Entry level Multicell-PLUS permits a common gas inlet supply allowing for a single gas inlet and connection to all vessels.
Optional independent isolation of each cell offers ability to charge each vessel with a differing chemistry and pressures without cross contamination between cells
Heating possible by hotplate stirrer but several other methods of heating & cooling possible
Many other options available – please discuss your requirements
UK / Europe / Global Delivery
Developed in collaboration with our clients / Bespoke design service
Committed to developing sustainable & practical improvements for scientists worldwide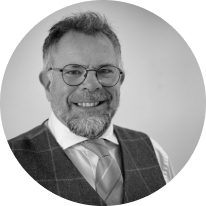 Asynt's unique range of innovative and sustainable products/services are developed by chemists for chemists - to make your lab life easier.
Martyn Fordham, MD
Customers also purchased