J-Kem Multi-Temperature Zone Reaction Blocks
Multiple zone reaction blocks allow independent temperature control of each block position, and each block can hold a different size vial. This allows a single reaction block to run reactions in multiple vial sizes at different temperatures.
Multi-zone reaction blocks are an indispensable tool for parallel synthesis, process development, and formulations research.
Available with 2, 4, or 6 Independent temperature zones.
Heat, cool, and reflux capability.
Multiple vial sizes.
Choose 2, 4, or 6 independent temperature zones
Choose heat, cool, reflux capability
Multiple vial sizes
Digital temperature controllers are also available with ramp-to-setpoint and USB communications
With so many possible configurations available, please contact us to discuss your requirements.
Please note:  Multi-zone reaction blocks are also available with heated pockets that fit removable insert blocks or titer plates.
UK / Europe / Global Delivery
Developed in collaboration with our clients / Bespoke design service
Committed to developing sustainable & practical improvements for scientists worldwide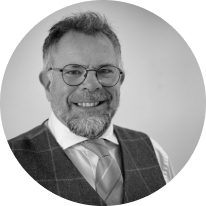 Asynt's unique range of innovative and sustainable products/services are developed by chemists for chemists - to make your lab life easier.
Martyn Fordham, MD
Customers also purchased