Equinox Analytical & Semi-Micro Balances
Equinox analytical balances are built to deliver remarkable precision to service labs that perform highly detailed testing.
The Equinox is ideal for research and quality assurance facilities; science education; precision counting; and production and manufacturing applications needing exceptionally precise results.
Eight analytical models offer capacities from 120 g to 510 g and 0.1 mg readability. A colour touch screen display provides intuitive operation, with icon-driven menus and readily accessible applications and functions. The five-inch screen is generously sized, offering 800 X 480 pixel resolution for excellent visibility.
Hardware
Level indicator and adjustable feet ensure proper balance setup for optimum weighing results
Security slot for optional Kensington-type lock and cable to help prevent theft
Large, grade 304 stainless steel pan allows easy cleaning
RS-232 interface is available to provide speedy connection to computers and printers
USB host for memory card
Software
Built-in memory for storing products and settings
External calibration allows for verification and adjustment with weights
Selectable digital filtering helps minimise effects of vibration and disturbances
Security password control prevents unauthorised access
Printouts include date and time for data tracking within Good Laboratory Practices (GLP) guidelines
Preset tare function speeds the process of repetitive weighing
Parts counting with freely selectable sample sizes
Multilingual display allows use in many different countries
Memory accumulation totals results
Checkweighing with audible alarm
Display
Large, responsive 5'' 800×480 pixel touch-screen display
Power
UK / Europe / Global Delivery
Developed in collaboration with our clients / Bespoke design service
Committed to developing sustainable & practical improvements for scientists worldwide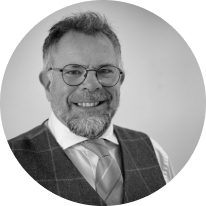 Asynt's unique range of innovative and sustainable products/services are developed by chemists for chemists - to make your lab life easier.
Martyn Fordham, MD
Customers also purchased