DrySyn Scholar Kit
The DrySyn Scholar has been designed to meet the requirements of University chemistry Teaching Laboratories for the safe heating and stirring of round bottom flasks without oil.
It offers safe handling with permanently attached lifting handles, and the basic kit accommodates 2 common flask sizes; 250 mL and 100 mL as standard.  Designed to fit securely on the majority of popular hotplate stirrers it can also be adapted to fit any shape hotplate stirrer available.  Manufactured from anodized aluminium, the low mass allows fast heating and low power consumption and yet accurate and precise temperature control.
We also offer the Scholar PLUS kit which has an additional 50 mL insert.
Of course you don't have to be part of a university to purchase the Scholar – it is available to all of our customers to compliment the full DrySyn range.
The DrySyn Scholar kit comprises a base designed for a single 250 mL round bottom flask, and one insert designed for a single 100 mL round bottom flask.
The base comes with two heat resistant handles for safe lifting.
Powerful stirring and great visibility of reaction
Space to Insert probe for temperature control
Fits standard hotplate stirrers including IKA and Heidolph
Safe temperature ramping to 300 o

C
UK / Europe / Global Delivery
Developed in collaboration with our clients / Bespoke design service
Committed to developing sustainable & practical improvements for scientists worldwide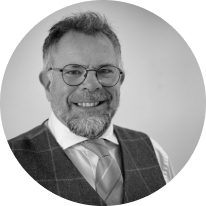 Asynt's unique range of innovative and sustainable products/services are developed by chemists for chemists - to make your lab life easier.
Martyn Fordham, MD
Customers also purchased