DrySyn Parallel Synthesis Kit
The DrySyn Parallel Synthesis Kit provides a convenient, low cost solution for chemists wishing to conduct simple synthetic reactions with temperature control and magnetic stirring, but without the complications of reflux or inerting.  With no messy oil baths required for heating this is a simple but effective tool for a modern and sustainable laboratory.
The DrySyn Parallel Synthesis kit is ideal for producing small, focused libraries of compounds.
This kit accommodates a range of standard reaction tubes and vials of different diameters.
It can also be upgraded to become a parallel reaction station using standard round-bottom flasks simply by using the appropriate DrySyn MULTI inserts. In this configuration, facilities like reflux and gas control can be added, as can directly driven stirring with the Asynt Vortex stirrer system.
The DrySyn MULTI-E base that is featured in this kit comes complete with a heat resistant handle for safe use in the laboratory.
The kit includes: 1 x ADS3-B DrySyn MULTI-E base with heat resistant handle, 1 x ADS3-R-(size) set of three inserts of one standard size.  Vials pictured for illustration purposes only.
Each pack of inserts contains 3 of one chosen size.
Standard size options available:
(each 4 position except 11.80 / 15.00 mm /17.20 mm)
11.80 mm (will fit 2 mLl HPLC sample vials – this size is 9 position)
15.00 mm (will fit 1 dram vials) – this size is a 5 position
16.20 mm (will fit CEM microwave tubes)
Tapered 17.20 mm (will fit Biotage tapered 0.5-2 mL microwave vials) – This size is currently unavailable as part of the DrySyn Parallel Synthesis Starter Kit.
17.40 mm (will fit Biotage 2-5 mL microwave tubes)
20.20 mm (will fit robot tubes)
24.40 mm (will fit Radleys tubes)
25.75 mm (will fit Wheaton reactor vials)
27.65 mm (will fit 20 mL Scintillation vials)
28.20 mm (will fit large Biotage tubes)
Supplied in packs of three of your chosen size (not mixed).  You are welcome to purchase additional packs of inserts in any standard or custom size without the Multi base.
Custom made inserts can easily be supplied to suit your chosen vials too.
Use for safe temperature ramping to 300 oC
Manufactured in the UK.
Please note the DrySyn MULTI units rely on a wide pattern magnetic field for good coupling when using multiple flasks or tubes, brands such as Asynt, IKA, Heidolph all have very strong and wide magnetic fields; some (not all) other brands use a weaker/smaller magnetic drive and as a result may not couple as effectively.
Available for only £459 - offer valid to 22nd December 2023.
UK / Europe / Global Delivery
Developed in collaboration with our clients / Bespoke design service
Committed to developing sustainable & practical improvements for scientists worldwide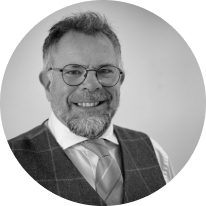 Asynt's unique range of innovative and sustainable products/services are developed by chemists for chemists - to make your lab life easier.
Martyn Fordham, MD
Customers also purchased