Buchi R-300 Rotary Evaporator
The Buchi R-300 meets the highest expectations in convenience and versatility. Its modular design allows extension of the Rotavapor® R-300 to a fully integrated system where a central interface regulates each component.
The R-300 has a huge range of options for users to configure their perfect system.  It's available with either an electronic or manual lift, and can optionally include the Heating Bath B-301 or B-305 and, a glass assembly of your choice and the Interface I-300 or I-300 Pro just to name a few options.  Prefer the water condenser option?  Pair with a recirculating chiller!
Ideally paired with the Vacuubrand MD 1C Vario vacuum pump.
Dimensions (W x D x H) with glass apparatus V 607 x 429 x 947 mm
Dimension (W x D x H) Shipping box 700 x 590 x 605 mm
Weight 13.5 kg (electric lift)
Weight 13.0 kg (manual lift)
Power supply 100 – 240 VAC ± 10%
Power consumption 100 W
Frequency 50/60 Hz
Ingress protection rating IP21
Immersion angle 10 – 50°
Vertical adjustment range 220 mm
Limit position detection adjustment range 170 mm (electric lift)
Limit position detection adjustment range 100 mm (manual lift)
Rotation speed range 10 – 280 rpm
Max. flask capacity 3 kg
Approval CE/CSA
UK / Europe / Global Delivery
Developed in collaboration with our clients / Bespoke design service
Committed to developing sustainable & practical improvements for scientists worldwide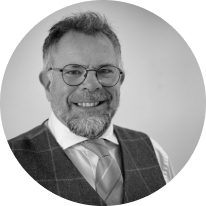 Asynt's unique range of innovative and sustainable products/services are developed by chemists for chemists - to make your lab life easier.
Martyn Fordham, MD
Customers also purchased