Asynt has introduced a new attractively priced starter kit based upon its DrySyn Classic heating blocks which are used in thousands of laboratories worldwide.
The DrySyn Classic Starter Kit gives you a great opportunity to try the outstanding performance of this popular laboratory heating block which is compatible with the most commonly used round bottomed flask sizes (50, 100, 250, 500 and 1000ml). Included also in the starter kit are Asynt heat resistant handles which enable fast, easy and safe lifting of your heated reaction flask.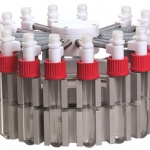 Used in combination with a standard hotplate stirrer, DrySyn Classic units are widely proven to outperform the heat-conducting properties of oil baths. They pose a far lower fire risk and eliminate the messy and time-consuming need to remove residual oil contamination from the outside of your glassware. In addition to accelerating your chemical reactions – DrySyn Classic heating blocks ensure a safer, cleaner, healthier working environment. The DrySyn Classic also provides a superior alternative to heating mantles.
The solid anodised aluminium construction of the DrySyn Classic delivers outstanding thermal and magnetic transfer efficiency and the durability suitable for use in any laboratory environment. Designed by chemists for chemists, the DrySyn Classic provides full unhindered visibility of your reaction.
You can download a PDF version of the full press release HERE.
If you require any further information please don't hesitate to contact us.