Designed by chemists, Asynt ReactoMate Controlled Laboratory Reactor (CLR) systems enable precise control of reaction variables, simple manipulation of vessels and connected apparatus, and the safest possible working conditions.
Compact in design, ReactoMate CLR systems offers the flexibility to accommodate reaction vessels from benchtop to pilot plant scale.
Asynt is pleased to announce a new agreement with METTLER TOLEDO to integrate their market-leading RX-10 automation system with ReactoMate CLR systems. The METTLER TOLEDO RX-10 automation system provides an interface connecting any type and volume of ReactoMate CLR to circulating thermostats, stirrer motors, and sensors. This allows researchers precision automation, control and monitoring of chemical reactions and processes in the lab or kilo lab environment. The intuitive RX-10 touchscreen automates the most commonly used unit operations and data acquisition utilising the RX-10 enables scientists to perform more successful experiments, and make informed decisions quickly.
Manufactured from high quality materials to strict quality standards, ReactoMate CLR systems are highly reliable, simple to set-up and easy to use. The NEW Datum system offers simple interchangeability with vessels from 250ml up to 5000ml and for larger scale reactions using a ReactoMate CLR system there is the Super Safe Support System which enables easy raising and lowering of even heavy fully loaded vessels with a single hand. A wide range of single and vacuum jacketed reaction vessels can be easily exchanged on ReactoMate CLR systems allowing chemists to quickly change between reactor vessel sizes thereby accelerating synthesis scale-up. A novel mounting mechanism ensures excellent stability and alignment every time.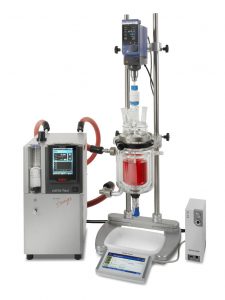 ReactoMate CLR systems are fully compatible with all leading brands of overhead stirrers. Built to operate over a wide temperature range from -70ºC to +220ºC, the ReactoMate CLR systems use a PT100 temperature probe linked directly to the heating/cooling circulator to ensure accurate solution temperature control.
For further information please visit /www.asynt.com/products/jacketed-lab-reactors/ or click HERE for our contact details.
Download the full press release HERE.