Judged by an independent panel of industry experts – Asynt Ltd. was chosen as the winner of the Lions' Lair competition at the recent Lab Innovations 2014 exhibition and conference at the NEC, Birmingham, UK.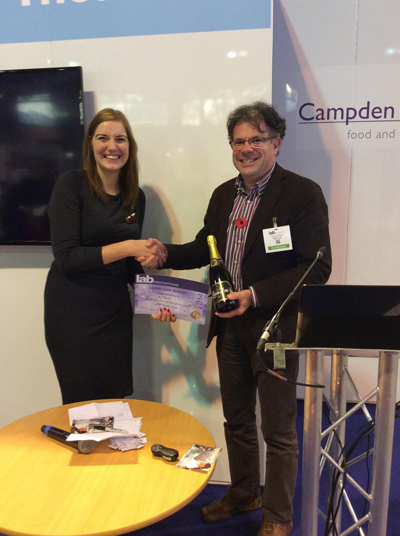 Asynt's winning product, PressureSyn, is a high pressure reactor designed to work on any magnetic hotplate stirrer. The in-built safety features of this product comprise a double pressure relief system including bursting disk and pressure relief valve. Precision engineered in the UK from 316 stainless steel, each 125 ml PressureSyn reactor is certificated and rated to a maximum pressure of 100bar and temperature of 200°C. PressureSyn reactors feature a unique bracket and key operated locking system ensuring easy assembly. Beneficially, this novel clamping arrangement also prevents the clasp from being disassembled whilst the reactor is still under pressure. Each reactors locking collar has a unique key which ensures only that key can be used to open that specific individual reactor.
Commenting on the company's win, Martyn Fordham, Managing Director at Asynt said: "It is always an honour to be recognised by your peers. We didn't achieve this alone, our innovation was created by the world-renowned Chemistry department at the University of Nottingham (UK) and brought to the market by Asynt for a winning combination. Our PressureSyn is a simple product that helps ensure a safe environment for those working within chemistry research labs. We are certainly thrilled to have won. "
The Asynt PressureSyn saw off stiff competition from Cleaver Scientific, Spex Certiprep and Metrohm, which all pitched their newest technologies to an expert panel of judges, in front of a live audience at the show.
The judges (or lions) included included Phillip Broadwith, Business Editor of Chemistry World, Kasia Wincoirek, Laboratory Manager at DNA Electronics, Phil Prime, Managing Editor at Laboratory News and Yahya Akudi, QC Lab Manager at Nuarfarm Ltd. Visitors at the show also had the chance to grill the exhibitors and vote for their winning product. The Lions' Lair award is run annually at Lab Innovations to encourage the ongoing improvement of laboratory products and to foster innovation.
To view a video introduction to the PressureSyn please visit the product page HERE
To download the complete Press Release click HERE