The Asynt GP540 is a new bench-mounted, general-purpose, ventilated laboratory cabinet designed for use in a wide-range of applications.
In the modern laboratory, where space is always at a premium, the compact GP540 uniquely combines true affordability with great flexibility. The GP540 is optimised for applications such as weighing, handling and examination of samples but can also be simply reconfigured to change the function of the enclosure.
The front panel of the GP540 can be easily removed, providing open access to the interior and facilitating the easy placing and positioning of equipment within the cabinet. The base is open to allow the GP540 to be positioned over fixed or heavy equipment, but the GP540 can also be easily upgraded to include an integral aluminium base if preferred. A low noise, 2-speed fan efficiently draws air in through an H14 HEPA filter before returning it to your laboratory environment. These filters can be easily changed in minutes by the operator, with a wide variety of other filters available, and the whole unit comes ready to use out of the box. The frame of the GP540 is constructed from sturdy 20mm anodised aluminium and it is glazed with clear acrylic for excellent visibility and easy cleaning.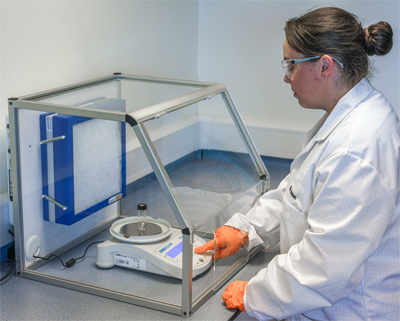 A wide range of other options are also available for the GP540 including different fans, lighting, alarms and more, such that it can be configured to suit your precise requirements.
For further information on the GP540 ventilated laboratory cabinet please click HERE.
You can download a PDF copy of this press release: Affordable Ventilated Laboratory Cabinet