World Water Day 2023 is on 22 March, as it is every year. It's an annual United Nations Observance, started in 1993, that celebrates water and raises awareness of the 2 billion people currently living without access to safe water.
This years' World Water Day is about accelerating change to solve the water and sanitation crisis.
The organisers say…
"…because water affects us all, we need everyone to take action.

That means you! 

You and your family, school and community can make a difference by changing the way you use, consume and manage water in your lives.

Your commitments will be added to the Water Action Agenda, to be launched at the UN 2023 Water Conference – the first event of its kind for nearly 50 years.

This is a once-in-a-generation moment for the world to unite around water.

Play your part. Do what you can."
We told you in 2022 that a core focus of World Water Day was to inspire action towards Sustainable Development Goal (SDG) 6.  Unfortunately right now, we are seriously off-track to meet this goal for water and sanitation for all by 2030.
Billions of people and countless schools, businesses, healthcare centres, farms and factories don't have the safe water and toilets they need. 
We all know that improving sustainability and green chemistry practices is essential for the environment, but does making those changes come at a cost users simply cannot or will not pay, either in terms of actual finance, user experience, or quality of results achievable with more sustainable equipment or methodology?
The Lean, Green, Profitability Scene
For those running a business, the decisions made must work for everyone; the accountant, the scientist, and the customer or end user.  At Asynt we have seen for ourselves that improving sustainability and green practices correlates perfectly with lowering operation costs, increasing profitability and ramping up productivity.  We believe that it is possible for all businesses to implement sustainable practices and see the benefits in their bottom line.
Think outside the box and save water
Adapting to change can be a struggle; perhaps new methods must be laid out and widely accepted for reaction processes handled in a new way, alternative apparatus must be sourced and users trained to implement it, and evaluation of results carefully considered.  However, once the change is made – for example replacing outdated and environmentally-costly water condensers with waterless air condensers – scientists realise that the new way of working improves efficiency in the laboratory as well as reducing environmental impacts, reduced costs and less wastage, thus freeing up budget funds for better use.
When going waterless is the smart change for your chemistry
Obviously, pouring thousands of gallons of water straight down the drain is something that costs both the environment and your pocket – but it's necessary to get the results you need in your lab, right?  Wrong.
Independent scientists have reported fantastic results after swapping out their old water condensers for the robust, easy to set up (and to clean) and waterless CondenSyn air condensers.
You've only to scan through the impartial evaluations and testimonials here on the Asynt website to see how positive an impact the CondenSyn are making all around the world. To share just one example, the University of Liverpool (UK) carried out a comprehensive review for the implementation of sustainable laboratory equipment in the undergraduate chemistry teaching laboratories and were amazed by the results:
What's holding you back?
Perhaps with World Water Day 2023 to spur you on, it's time to refresh your lab and put those millions of gallons of wasted water to better use.  CondenSyn has a short pay-back time but starts reducing your environmental impact immediately.  You're also taking away the flood risk and the potential to come in to the lab after running an overnight reflux to find an indoor swimming pool where your bench was and the department downstairs (with the new and costly lab equipment that's now floating across their lab) full of wrath!  It's time to make the change!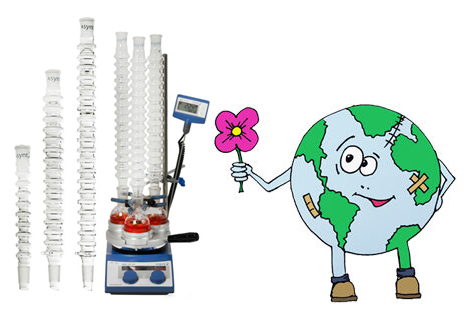 Contact us today to discuss which model of the CondenSyn waterless air condenser range is best suited for your chemistry and scale – feel free to add your details to the short form below if that's easiest and we'll get back to you.