With so many "Asyntise" custom projects being brought to life in addition to our regular laboratory equipment requirements, we've been looking to expand the Asynt team to ensure that we can provide the best possible service to our customers all around the world.
With this in mind, I hope that you'll join us in welcoming Antony Wozniak to the team where he is a dedicated Technical Sales Specialist supporting the south of the UK.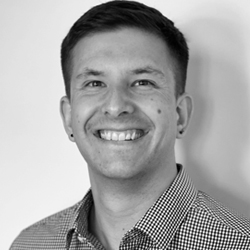 Whilst Antony has a strong chemistry background like the rest of our sales team, we thought that there were potentially more important things that you'd like to know.  Read on and see if you think we covered the essentials…
How would you describe yourself to someone you met in the "real world" – i.e. not through work?
I would say that I'm competitive, thoughtful, and a high school geography teacher once described me as 'a card'. Still not sure what it means but it's always stuck with me!
What's your spirit animal, and why?
I think I'd have to say a dog. I've been a dog dad to a Spanador called Pepsi (short for Pepper) for a few years now, and we have a few similarities. We both love food, barking at the postman and prefer chasing after balls (Football, Rugby League, Cricket etc.) rather than just running for no reason (one of those isn't true 😝)! 
What's your favourite food that you couldn't bear to live without?
Very hard to choose, probably torn between a roast dinner and curry.
Top 3 desert island disks/tunes or maybe podcasts if you're that way inclined?
The Courteeners – Not Nineteen Forever, The Stone Roses – This Is The One, Daryl Braithwaite – The Horses.
Why did you want to be part of the Asynt team? Any first impressions we should know about?
Always enjoyed working with the Asynt team. Very on the ball, efficient and most importantly focused on the customer. A lot of companies say they are customer focused as a marketing ploy, but Asynt truly is customer focused and this is demonstrated by the quantity of custom projects and the number of products that have been developed through collaboration with customers. First impressions are the Asynt team is highly skilled, hardworking and very welcoming. The old analogy of a swan – gracefully gliding across a lake – whilst furiously paddling beneath the surface of the water comes to mind.
What do you bring to the party?
I believe I can bring new perspectives and viewpoints to Asynt. I have experience in both product development and sales which goes hand in hand with the Asynt 'Asyntise Your Lab' philosophy. Commercially I've worked both as a manufacturer and a distributor, so I've been on both sides of the fence as it were. A large proportion of my sales in the past have been export so I hope to be able to make significant contributions to the export strategy and ultimately the profitable growth of Asynt's export sales. We need to spread the Asynt word so that chemists around the world can benefit from our innovation and expertise.  My past also helped me develop my cultural sensitivity – working practices differ significantly from country to country and I'm very considerate of them. From a customer perspective, their success is my ultimate goal, if they're successful, generally that will help me to be successful too.

Anything else you think our customers should know?
Customers should know that the Asynt team has decades of experience across a wide range of specialities – from the lab, glassblowing and engineering etc. About me, I will try to peddle oatcakes (a North Staffs delicacy) to anyone that will try them. I'm interested in languages so if they speak languages other than English it would be great if they can teach me a few words!
We hope you've found this insight into the newest member of the Asynt team interesting – if you'd like to get in touch with Antony please email [email protected], or give him a call on +44 (0)1638 781709.  You can also find him on LinkedIn, Twitter, and Instagram if you'd like to give him a follow.
Welcome to the team, Antony!