It's almost Halloween (October 31st) but will you be celebrating Samhain or Halloween in your lab at the midnight hour?
Where do the Samhain and Halloween celebrations originate?
The current Halloween tradition actually originated with the ancient Celtic festival of Samhain (a Gaelic word, pronounced sow-in or sow-een). The Celts lived around 2,000 years ago, mostly in the area that is now Ireland, the UK, and northern France and celebrated their new year on 1st November.  This date marked the end of summer and the harvest, and the beginning of the winter – a time of year that was often associated with human death.  The Celts believed that on the night before the new year, the boundary between the worlds of the living and the dead became blurred so on 31st October they celebrated Samhain, lighting bonfires and wearing costumes in an effort to ward off ghostly visitors.
Samhain continues to be religious in focus and spiritually observed by adherents, reflecting natures rhythms of life and death. Although this often includes festivities, the honouring of the Dead that is central to Samhain is a serious religious practice rather than a light-hearted frivolity.
In the eight century, Pope Gregory III designated November 1st as a date to honour all saints.  All Saints Day quickly incorporated some of the traditions of Samhain and the evening before became known as All Hallows Eve, later becoming Halloween.
How do we celebrate Halloween now?
Over the years Halloween has evolved into a day of fun-filled events mostly centred around entertaining our children, but us "big kids" like to get involved too!  Trick or treating, carving pumpkin lanterns, donning costumes and generally filling our faces with themed foods… all great stuff – but whether you're celebrating Samhain or Halloween, what do you do in your lab?  We've found a few of your posts but we'd love to see more so please do tag us!
| | |
| --- | --- |
| | |
| | |
| | Did we miss your Samhain or Halloween post? Tag us! |
Before we get into our Halloween costumes and start trick-or-treating we'd just like to draw attention to the fabulous pumpkin carved by our very own Dr Ffion McKeague; methylated sprits, proudly displayed alongside my less imaginative scary face on a DrySyn Classic base!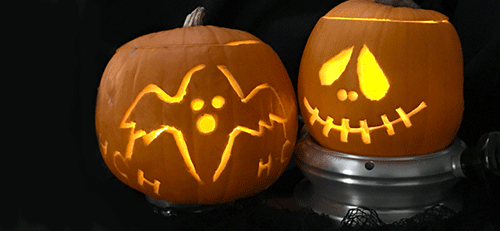 Happy Halloween, and Happy Samhain from the Asynt team.