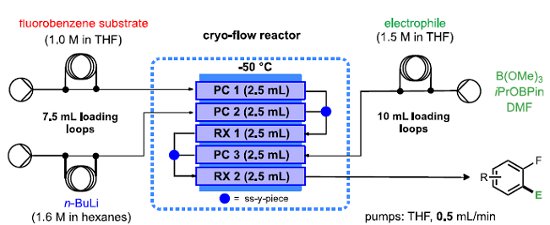 A low temperature reactor platform that facilitates metalation followed by electrophilic quenching, and related reactions under continuous flow-through conditions has been developed.
Pre-cooling loops are incorporated for all 3 reactor input streams and gaseous reagent inputs can be easily introduced by attaching a 'tube-in'tube' presaturation module.
All of the coil reactors and flow chemistry equipment described are available from Asynt Ltd.
The full paper is available HERE
J. A. Newby, D. W. Blaylock, P. M. Witt, J. C. Pastre, M. K. Zacharova, S. V. Ley, D. L. Browne, Org. Process Res. Dev., 2015, 4OI: 10.1021/op500213j