FlowSyn Continuous Flow Reactor
FlowSyn is a fully integrated, easy to use continuous flow reactor for seamless reaction optimisation and scale up from mgs to 100s of g.
FlowSyn continuous flow reactor has been designed by a team of experienced flow chemists and engineers. This modular system can be easily upgraded as the chemists knowledge and needs grow and works as the chemist wants it to, not as an engineer would.
Leasing Options: Through our leasing partner, LDF Finance it is now possible to lease or rent to buy a FlowSyn.
There are real advantages to companies in leasing due to the way VAT is handled on the balance sheet. Terms are typically between 2 and 4 years. Longer term rental is also now possible and at the end of the lease or rental period there is the option to buy.
For more information please go to www.uniqsis.com or contact us for a demonstration in your laboratory.
Space Saving – Compact Footprint, fully integrated system.
Safety – All pressurised parts are protected and isolated, no bare reactors. Active pressure monitoring system.
Time Saving – Short set up and reaction times.
Efficiency – Offers complete non attended operation. System will equilibrate, run reaction and clean automatically.
Future-proof – Uniqsis are already designing optional modules for FlowSyn, all are compatible with the base system
Optional full automation of reaction profiling
Widest range of coils on the market from 1.8ml to 60ml in PTFE, stainless, Hastelloy, PFA, PTFE or silicone lined stainless tube
The most chemically resistant system on the market with 10ml and 50 ml pump head options, we can pump BuLi, concentrated mineral acids and even greater on the Hastelloy and PTFE systems
Ability to run superheated reactions up to 260 °C and up to 1400 psi (100 bar)
UK / Europe / Global Delivery
Developed in collaboration with our clients / Bespoke design service
Committed to developing sustainable & practical improvements for scientists worldwide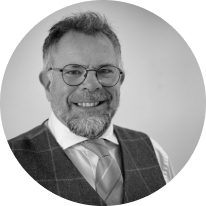 Asynt's unique range of innovative and sustainable products/services are developed by chemists for chemists - to make your lab life easier.
Martyn Fordham, MD
Customers also purchased