We are pleased to confirm that Asynt Managing Director, Martyn Fordham, will be joining the GAMBICA team at CHEMUK 2021 for an informative Q&A as part of the session entitled "Minimising Waste in Chemical Formulation" on Thursday 16th September 2021.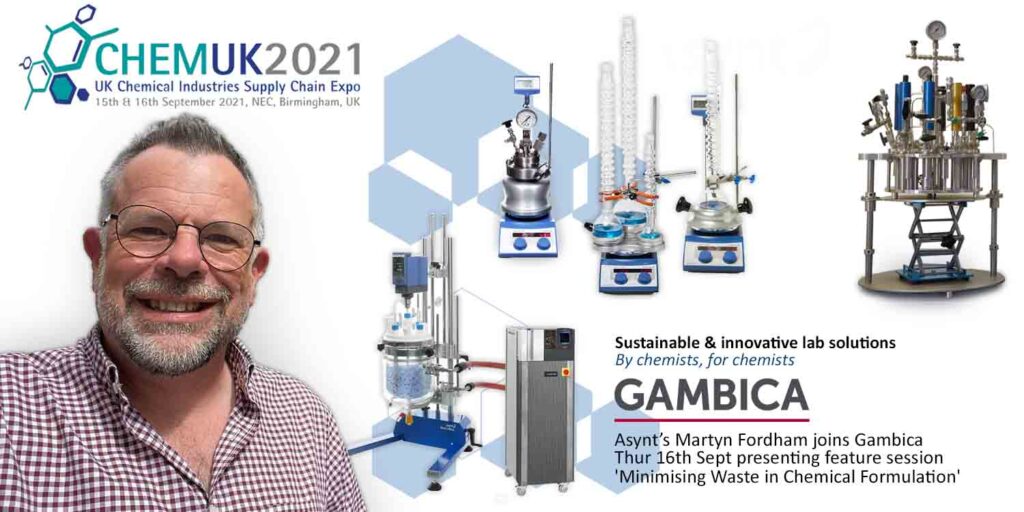 In this session, expert members of GAMBICA, the trade association for laboratory equipment, test and measurement suppliers, will offer step by step advice on how to drive waste minimisation in key areas that matter to the chemical industry including:
Avoiding incomplete chemistry
Minimising use of energy and raw materials
Reducing end of pipe waste & re-work
Martyn, alongside host, Jacqueline Balian (Head of Laboratories Sector, GAMBICA), Dr Paddy Delany (CEO Huber UK temperature Control Ltd) and Steve Freeman (Process Instrumentation Division – Anton Paar Ltd) will be drawing on expertise from extensive collaborations with leading chemists and organisations, to explain how the chemical industry's drive to transform research and development by improving quality, minimising waste and reducing cost.
It's not all about energy  Martyn Fordham
Improving productivity and reducing waste by appropriate temperature control Dr Paddy Delaney
Measure to manage Steve Freeman
If "Minimising Waste in Chemical Formulation" is something you'd like to know more about then please do register to attend.  GAMBICA can be found at stand B15 and the session is 14:30-15:30 on Stage 4, Thursday 16th September 2021.

You can see full details, including how to register for FREE to attend this feature-packed exhibition via our events page here: https://www.asynt.com/events/chemuk-2021-expo/
We look forward to seeing you there!