So you've heard about the DrySyn Spiral Evaporator and the Smart Evaporator C1 but how do you decide which offers the best solution for your chemistry?
Let us help you choose…
Dr Arran Solomonsz explains the key differences and how you might decide which is right for you in our short video below:
What do we mean by 'spiral plug technology'?
Designed by the experts at BioChromato (Japan), the spiral plugs used in both these pieces of apparatus utilise a patented vacuum-assisted vortex concentration technology when connected to an appropriate pump or vacuum source.  The diagram below explains the process: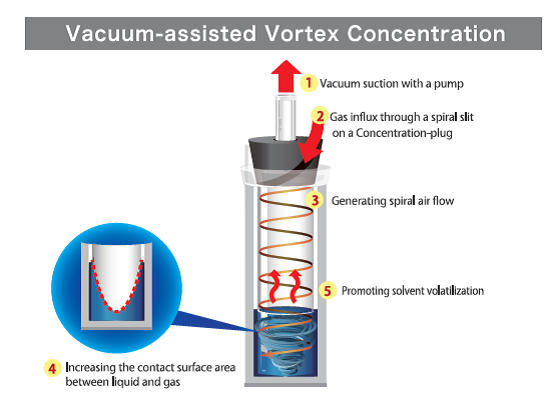 The spiral plugs are available in four sizes to suit the most commonly requested tubes and flasks.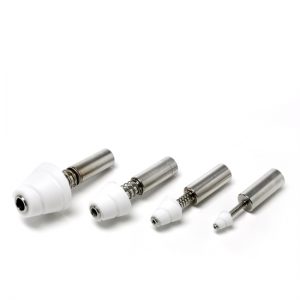 The DrySyn Spiral Evaporator:  Utilising the proven safety benefits of DrySyn, combined with the patented spiral plug evaporation technology from BioChromato detailed above, the DrySyn Spiral Evaporator offers fast and effective parallel evaporation in up to 4 separate tubes without solvent bumping. Use the system to rapidly concentrate even high boiling solvents such as DMSO, DMF and water in tubes, without heating to high temperatures.
Click here for further information
The Smart Evaporator C1:  Using the same spiral evaporation plug technology, this comes with PTFE lining to a large bath offering safer working up to 100 mL flasks.  The Smart Evaporator C1 can now also accommodate taller tubes with easier & greater height adjustment than previous models,  but all models are compatible with the DrySyn Spiral Evaporator plugs.  In addition, the temperature control block in the C1 has been expanded from φ50mm to φ60mm to allow greater versatility with your chosen containers.
Click here for further information
Interested in finding out more?
If you'd like to speak with one of our experts and discuss how one of these systems would benefit your chemistry then please contact us today.  You can chat with us now via the LIVE CHAT box at the bottom right of your screen, call on +44 (0)1638 781709, or email via [email protected].  Alternatively, you're welcome to add your details to the short form below if preferred.  We look forward to hearing from you!