With a worldwide network of distribution partners, you can shop locally for all of your favourite Asynt products.  We would like to take the opportunity to recognise all the hard work from these partners in our Asynt Distributor Awards 2021 – read on to see who's won!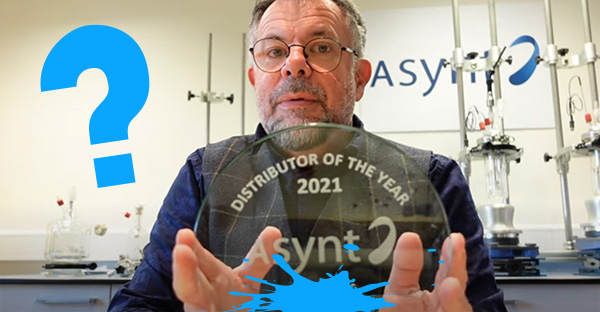 Distributors who understand your critical issues
It's essential for many of our international customers to be able to work with a supplier who understands their local issues and can support them appropriately.  This is why we work hard to build and maintain a network of the best partners around the world who have extensive knowledge and experience in the chemistry world and who embrace new solutions to optimise scientists time in the laboratory.
Who is your local distributor?
You can find a complete list of the Asynt distributors here on our website: www.asynt.com/distributors/ but if you're unsure who to speak to, please don't hesitate to contact us directly and we'll be glad to help you.
So, without further ado, Martyn Fordham announces our winners of the Asynt Distributor Awards 2021 in the short video below:
If you'd like to see their reactions when we told them the good news then carry on watching below:
See their website HERE.
See their website HERE.
We hope that you'll join us in congratulating the winners of these two very special awards as we look forward to seeing what they have in store for us all in 2022!