From the Here2Grow Press Release
The ReactoMate DATUM evaluation is kindly shared by Here2Grow:
"Having the ability to solve increasingly complex material and formulation problems for their clients, has led to leading product development specialist, Here2Grow, recently investing nearly £60k in new technical equipment for their state-of-the art, Yorkshire-based R&D laboratory. Their purchases include a ReactoMate Datum combined with a Julabo Circulator, and a HAAKE™ MARS™ iQ Rotational Rheometer.
Here2Grow, who last year won the Cosmetics Development Specialist of the Year – UK, in the Innovation & Excellence Awards run by Corporate LiveWire, provide bespoke formulation services, to enable their clients to fully optimise their product development aspirations. The company assists with innovative ideation, development and manufacturing of products and has a growing portfolio in personal care, homecare, detergents, dish wash technology and green technologies."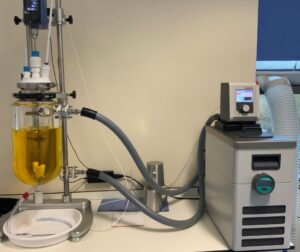 "The ReactoMate Datum is a compact benchtop Controlled Lab Reactor (CLR) system from laboratory equipment supplier, Asynt, that offers the flexibility to accommodate reaction vessels from 100ml to 5 litres. Looking to be able to control temperatures and mixing processes in a repeatable manner, the Datum provides Here2Grow with additional capabilities for mixing gels and structured liquids, within a temperature range of -20°C to 145°C when linked directly to their Julabo Circulator, which in turn ensures accurate solution temperature control."
"One of our clients required relatively complex modifications and adjustments in the product development. By using the Datum and working with Asynt, we were able to achieve the desired outcome. The equipment is simple to set-up, easy to use and reconfigure, saving us valuable time and money," said Here2Grow's CEO, Dr Henry Brew.
For more information on Here2Grow's contract formulation services visit www.here2grow.com, call +44 (0) 1757 616230, or email [email protected].
Following this ReactoMate DATUM evaluation, for further information on the system please contact us to discuss your requirements.
Shared from the original release HERE.
ASY-EV-159