This PressureSyn HPR Evaluation is shared by: Dr Marco Conte, Lecturer in Physical Chemistry, Department of Chemistry, University of Sheffield.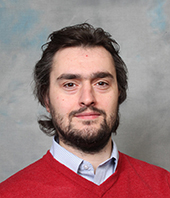 "I am a user of the Asynt PressureSyn reactor, for the testing of catalysts of oxidation and isomerization reactions, and this is a product that I strongly recommend to any researcher who has the need to explore a wide range of temperatures and pressure, but preserving important safety characteristics and a compact design.

This is one of the safest autoclaves I have had the chance to work with.

Safety features include two different outlet safety valves, and due to its design it is not possible to open the autoclave unless the pressure inside the vessel has been reduced to ambient value first. The latter is an important, and to some extent unique, feature that allows the use of this set-up also for non-experienced users.

In summary I strongly recommend this product for its capability and safety to anyone involved in the study of chemical reactions."
More about the author:
Dr Marco Conte heads up the Conte Catalysis Group at the University of Sheffield, UK.  The group describe themselves as being at "The forefront of heterogenous catalysis".
Research interests
Their research activity aims to tackle grand challenges and they focus in the development and design of novel heterogeneous catalysts for sustainable processes in the areas of:
Water environmental remediation
Biomass conversion to platform chemicals
Selective oxidation of hydrocarbons
Materials and testing. The group are experts in the synthesis, characterization and testing of a wide range of catalysts and materials including: supported metal nanoparticles, micro and meso porous materials, zeolites, nematic phases, nanostructured and bulk metal oxides. These materials are tested by using both atmospheric and pressurised chemical reactor vessels.
Methodology. They pioneered new methods like quantitative NMR for hydrocarbon mixtures, and to achieve our research goals we make use of an array of physical chemistry approaches involving: kinetics, solid state chemistry, properties of fluids, design and build of chemical reactors, as well as computational models.
Analytical and characterization methods. They make use of a wide array of state-of-the-art analytical tools, which are aimed to to identify structure-activity correlations and unveil reaction mechanisms. These involves: NMR (liquid and solid state), XRD (powder and in-situ), HPLC, GC-MS, XPS, TGA and chemisorption methods, infrared-ATR and EPR spectroscopies, as well as TEM and SEM analysis.
Published works
You may view a variety of these via this external link: https://orcid.org/0000-0002-1399-0344
More information about the PressureSyn lab reactor
Please visit our product page: https://www.asynt.com/product/pressuresyn/ or contact us for a chat about how the PressureSyn may be useful in your own lab.  You can email us via [email protected], call on +44 (0)1638 781709, talk to us now via the LIVE CHAT box at the bottom right of your screen, or book a ONE2ONE at your convenience via our online appointment system HERE.
We look forward to hearing from you!
Reference: ASY-EV-148