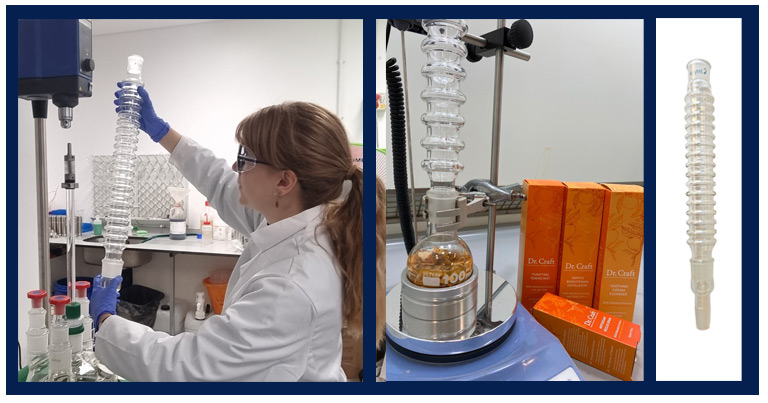 Asynt's Dr Kerry Elgie worked closely with senior scientist, Dr Kristina Hetherington, at Keracol Ltd to understand their needs and advise on the best solutions to suit their chemistry at every scale.  Scale up from benchtop to larger volumes of sustainable extraction technology is essential for this UK-based green cosmetics spin-out company born from over 15 years of scientific research between Professor Chris Rayner and Professor Richard Blackburn of the University of Leeds, UK.
Recycling solvents with CondenSyn and CondenSyn MAXI
Dr Hetherington said "Finding alternative ways to reduce water consumption and conserve energy by utilising laboratory equipment such as the DrySyn heating blocks and CondenSyn air condensers is essential to our development of green beauty products. Working with different food waste requires researching and identifying the optimal conditions for extraction of specific actives and for this task we have standardised on Asynt DrySyn heating blocks, hotplate stirrers and CondenSyn waterless condensers as our 'go to' laboratory tools. The DrySyn heating blocks and hotplate stirrers have proven to be highly reliable in reproducing the conditions for our world-first optimised extraction protocols. We rely on the CondenSyn waterless condensers heavily too as we always recycle our solvents.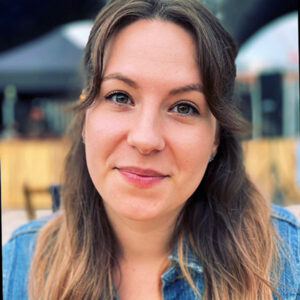 Crucially, when we scale-up our extraction process, the CondenSyn MAXI is an incredible tool which has ensured we recover an amazing 98% of the solvent which we recycle for subsequent extractions of each active material."
See Keracol's independent review of the CondenSyn MAXI HERE.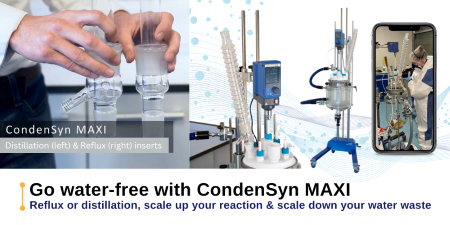 Recently the company launched its award-winning* Mandarin Range (carry on reading for a SPECIAL OFFER) as a result of a collaborative two-year UK-China research project, named Citrusafe (funded through UK & China government agencies, involving The University of Leeds, Zhejiang University and several UK & Chinese industrial partners) to eliminate waste and improve food safety.
Mandarin (Citrus reticulata) is grown extensively in China and the Chinese mandarin canning industry produces over 10 million tonnes of mandarin peel as a by-product of this food industry every year. Currently there are no uses for this food industry waste peel, and it cannot be landfilled, mulched or composted, so it is inevitably incinerated. The project focused on China's development priorities to eliminate food waste and the mandarin peels used in Keracol's mandarin range are sourced directly from China's mandarin canning industry.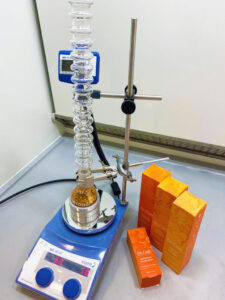 A staggering 20% of the peel waste is packed with anti-inflammatory, antioxidant, and wound healing actives. Keracol's unique green extraction process is gentle on the plant material and also gentle on the environment using only green solvents and minimal energy. The mandarin peels are received dried, then mixed with a green solvent at a slightly elevated temperature for the minimal amount of time necessary. The peels are then separated from the solvent which now contains the extract and is subsequently concentrated by evaporating the solvent – leaving behind the extract, all as a result of the scale up of sustainable extraction technology. Keracol's scientists collect the evaporated solvent and recycle it for the next batch of peels so as to keep solvent consumption to the absolute minimum possible.
Amongst citrus fruits, mandarin peel contains some of the highest concentrations of the natural bioflavonoids naringin and hesperidin.[1] Narirutin has potent free radical scavenging and anti-inflammatory properties.[2] Studies show hesperidin has antioxidant, skin brightening and skin soothing effects that together contribute towards a brightened and improved skin appearance; hesperidin has also been shown to have additional benefits in skin functions, including wound healing,[3] UV protection,[4] anti-inflammation[5],[6] and antimicrobial activity.[7]
Scaling up of sustainable extraction technology using the same family of tools at each volume enables accurate reproduction of results – all whilst maintaining the company's clear desire to operate in the most environmentally-friendly way possible.
Despite mandarin peel being a natural material, it has very slow biodegradation due to natural compounds present in the skin that are resistant to bacteria and fungus. Because of this, disposal of the waste peel is problematic and usually ends in  incineration. As such, valorisation of the waste peel provides significant environmental benefits and supports significant sustainability efforts by reducing unavoidable waste from food processing streams and reducing costs of disposal.
Support sustainable brands when you shop!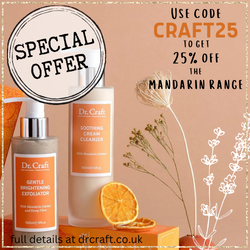 Visit https://drcraft.co.uk/collections/mandarin-range and use code CRAFT25 to get 25% off the mandarin range.  Terms & conditions apply. See website for further details.
Offer valid to midnight (UK time) on Sunday 11th December 2022.
Please note:  Asynt does not receive any benefits of any form for sharing this offer and is in no way affiliated with Keracol Ltd or Dr Craft.
Further reading
If you'd like to see more about how Asynt is committed to making sustainable labs a reality then please click HERE.

Please contact us via [email protected] or telephone +44 (0)1638 781 709 to discuss any lab requirements you may have.
* Recently Keracol's Dr Craft Mandarin Serum received the 2022 Global Green Beauty Award, and its Dr Craft Mandarin Exfoliator was shortlisted for Best New Sustainable Product at the 2022 Sustainable Beauty Awards in Paris.
E.-H. Liu, et al., Food Chemistry, 2013, 141, 3977-3983.

M.A. Alam, et al. Advances in Nutrition 2014, 5, 404-417.

W. Li, et al. EXCLI Journal, 2018, 17, 399-419.

A. Petrova, et al. Journal of Photochemistry and Photobiology B: Biology, 2011, 103, 126-139.

H.-L. Yang, et al. Journal of Agricultural and Food Chemistry, 2012, 60, 522-532.

P.-D. Moon & H.-M. Kim, Phytotherapy Research, 2012, 26, 657-662.

M.-Q. Man, et al. Evidence-Based Complementary and Alternative Medicine, 2019, 2676307.
ASY-CS-203